A lot of us in the trucking industry had to do something last week that we haven't had to do in a while — work a full, five-day week. Of course, for a lot of trucking companies, the work week can easily last six or seven days, but either way, one thing that the activity on the DAT Load Board told us last week was that pretty much everyone was back to working full time.
That meant that trucks were out on the highways in full force following the holidays. Compared to the week that included New Year's Day, truck posts on DAT were up 77% last week, while load posts were up only 9%. That extra capacity cut the national van load-to-truck ratio nearly in half. Plus, freight moves are less urgent at this time of year, so prices down were across the country. Still, the line haul portion of the national average van rate held steady at the December average, so it was the lower fuel surcharge that had the biggest impact.
DAT load boards provide the largest and most trusted digital freight marketplace in the trucking industry, with more than 256 million loads and trucks posted annually, plus insights into current spot market and contract rates based on $60 billion in real transactions.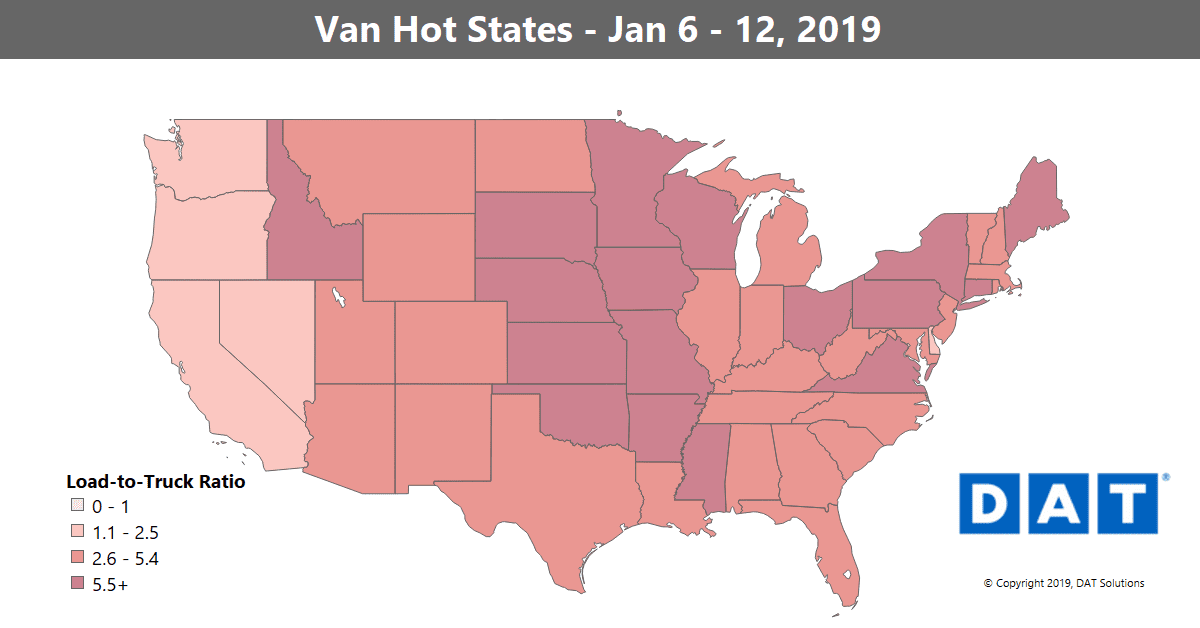 As stated above, the story last week was mostly that of falling prices. That said, outbound rates from Houston held up better than most markets, with a huge uptick in volumes. Still, not many lanes had high higher rates last week.
All rates below include fuel surcharges and are based on real transactions between brokers and carriers.
RISING
Houston to Oklahoma City rose 13¢ to $2.18/mile
Denver to Houston was up 13¢ to $1.37/mile
Columbus to Buffalo was the biggest increase, up 14¢ to $3.41/mile
FALLING
On the top 100 lanes, 81 had lower rates last week, with the declines most pronounced on shorter trips. While every market was down, the standouts were Philadelphia, Stockton, Los Angeles, and Seattle, which has slipped the most in the past month.
Philly to Buffalo dropped 32¢ to $2.42/mile
Denver to Albuquerque was down 30¢ to $2.04/mile
Los Angeles to Phoenix fell 27¢ to $3.10/mile
Reefer load counts rebounded 25% last week after the New Year's interruption, but once again there was plenty of capacity to handle the demand. And just like with dry vans, an overwhelming majority of the top reefer lanes had falling prices: 62 of the top 72 lanes were down last week, including several sharp declines
FALLING
Nogales, AZ, had been a hot market in recent weeks as a gateway for Mexican produce, but prices plunged last week: the lane to Dallas dropped 86¢ to $2.51/mile
Miami to Baltimore fell another 50¢ to $1.62/mile
Atlanta to Philadelphia slid 53¢ to $2.65/mile
Somewhat surprising: McAllen, TX, to Atlanta was down 39¢ to $2.60/mile
RISING
A couple brighter spots: Outbound reefer rates in Grand Rapids, MI, actually edged up on strong volumes, and pricing held steady out of Twin Falls, ID.
The lane from Twin Falls to Los Angeles was up, though, adding 16¢ to $2.67/mile
Grand Rapids to Cleveland climbed 39¢ to $2.82/mile
Find loads, trucks and lane-by-lane rate information in DAT load boards, including rates from DAT RateView.