Have the recent interest rate hikes started to slow down the residential construction trends? In April, building permits fell 3.2% compared to March, but permits were still 3.1% higher than last year. As for construction that's now underway, there were 1.72 million housing starts in April (single-family and multi-family combined), down slightly from March at 0.2% but still 14.6% higher than the prior year. Within this overall number, single-family housing starts decreased 7.3% month over month, while multi-family homes such as apartment buildings and condos increased 16.8%.
"Today's housing starts report is more evidence that the single-family market is slowing," said NAHB Chief Economist Robert Dietz. "While single-family starts are up 4.1% on a year-to-date basis, we're expecting flat conditions for the year and a decline in 2023, as housing affordability challenges in the form of higher mortgage rates and construction costs continues to worsen housing affordability conditions." 
Additionally, new home buyers who signed contracts in 2021 face tough financial decisions as the interest rates have nearly doubled from the time they entered into their new home contract, according to the Wall Street Journal.
While housing starts are often correlated with flatbed demand, so too are big box home improvement stores. Home Depot reported sales of $38.9 billion for the first quarter of 2022, an increase of $1.4 billion from the Q1 2021.
"The solid performance in the quarter is even more impressive as we were comparing against last year's historical growth and faced a slower start to spring this year," said Ted Decker, Home Depot CEO.
In contrast, Lowe's sales for Q1 were $23.7 billion compared to $24.4 billion in Q1 2021.
"Our sales this quarter were in line with our expectations, excluding our outdoor seasonal categories that were impacted by unseasonably cold temperatures in April," commented Marvin R. Ellison, Lowe's chairman, president, and CEO. "Because 75% of our customer base is DIY, our Q1 sales were disproportionately impacted by the cooler spring temperatures. Now that spring has finally arrived, we are pleased with the improved sales trends we are seeing in May."
Find flatbed loads and trucks on the largest on-demand freight marketplace in North America.
All rates cited below exclude fuel surcharges unless otherwise noted.
Flatbed carriers were in high demand in Los Angeles last week, pushing up outbound spot rates by 28 cents to $2.69/mile after dropping the three weeks prior. The trends were a little more varied on a lane-by-lane basis:
Loads heading 700-miles northeast to Salt Lake City were down slightly at $3.12/mile, around 15 cents lower than last year

Loads to Las Vegas are currently averaging $4.16/mile, which is 68 cents higher than the previous year

Loads to Denver are down to $3.10/mile, 20 cents lower than the same week last year
Flatbed capacity was also tighter in the Southeast. In Miami, flatbed load posts on the DAT network jumped 30% last week, driving up spot rates by 13%. In the Pacific Northwest, spot rates for outbound loads in Seattle were up to an average of $2.64/mile last week..
After plunging the week prior by 18%, flatbed load posts on DAT recovered 8% last week. That's still 6% lower than the previous year, but 21% higher than when flatbed demand surged in 2018. The International Roadcheck inspection blitz also constrained capacity, with carriers posting 12% fewer trucks last week. As a result, last week's flatbed load-to-truck ratio bounced back to 70.4, up from 57.6.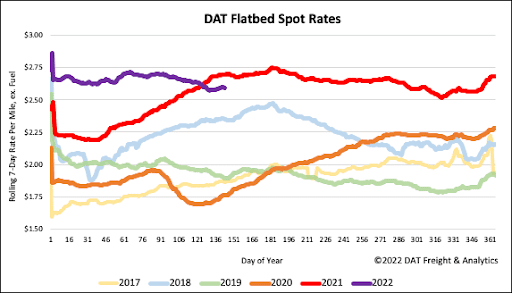 After dropping for five weeks, flatbed rates reversed course last week. The national average rose 1 cent to a line haul rate of $2.61/mile. Flatbed spot rates are still 10 cents lower than the previous year but still 10% higher than in 2018.