This week DAT Solutions launched a new version of its carrier onboarding product that simplifies the process for both brokers and carriers.
"Getting set up with a new broker is a painful experience," said Chad Boblett, an owner-operator and founder of the 8,500-member Facebook group Rate Per Mile Masters. "Asking a carrier to fill out a 20-page contract and to fax it back at $2 per page at a truck stop is like asking him to do his taxes."
DAT OnBoard™ is the only commercially available onboarding software where carriers can complete the entire onboarding process using a mobile device. That means carriers can onboard wherever they are—using a smartphone, tablet or laptop.
Key benefits of DAT OnBoard include:
No need to re-type information – Brokers don't have to transfer information from a hand-written hard copy because carriers type their profile directly into the OnBoard system. Profile information includes the lanes they run, fleet size, insurance agent, and tax information. DAT then validates the W9 tax info with the IRS.
DAT OnBoard
Works with your TMS – Carrier profile information in DAT OnBoard can be uploaded directly to your transportation management software, without having to re-input the data.
50,000 carriers already signed up – More than 50,000 carriers have already set up their profiles in DAT's onboarding system. These carriers can share their profiles with any broker using DAT OnBoard.
Maintain your company's branding – Your company gets a personalized website on DAT, which includes your company logo, custom messages to your carriers, and your contracts with full version control.
Carriers can onboard anywhere – Smaller carriers and owner-operators often have to wait until they reach the nearest truck stop to fax or email paperwork to a broker. With DAT OnBoard, they can input information on any device.
No fax needed with electronic signatures – Carriers sign your contracts electronically, eliminating the need for a fax machine.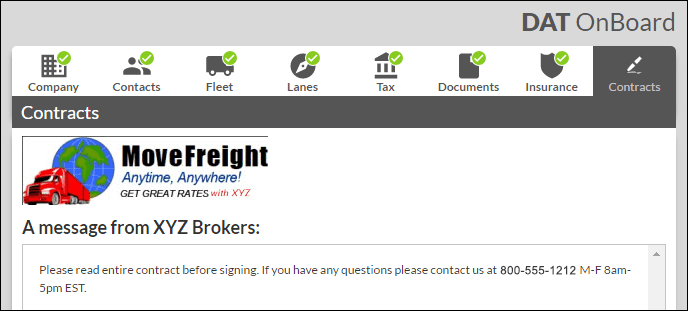 With DAT OnBoard, carriers fill out an online profile on the broker's branded site.
Powerful yet affordable
Onboarding software custom-built for your company can cost thousands of dollars to design, plus monthly fees. DAT OnBoard is an affordable alternative. It enables you to collect standard profile information for each carrier, all through a secure online portal that includes your logo and customized messages to carriers.
Pricing is based on the number of carriers you need to onboard each month. Packages start at $50 for onboarding up to 50 carriers per month.
For more information about the new DAT OnBoard, or to schedule a demo, send us an email or call 800-547-5417.