Once upon a time, Black Friday marked the end of the retail freight season. Those days are gone.
E-commerce has disrupted that traditional freight schedule. While brick and mortar stores still need to stock shelves before Black Friday, the online activity that fuels a larger and larger portion of truck load demand every year will continue right up until Christmas and even on into the first week or two of January, when people are cashing in their gift cards or sending returns. The brick and mortar stores also have to restock more aggressively in December and January to compete with e-commerce.
The activity on the DAT Load Board shows how the new freight trends play out, and we should see rates rising in December, though probably not as high as they were in June.
DAT load boards provide the largest and most trusted digital freight marketplace in the trucking industry, with more than 279 million loads and trucks posted annually, plus insights into current spot market and contract rates based on $57 billion in real transactions.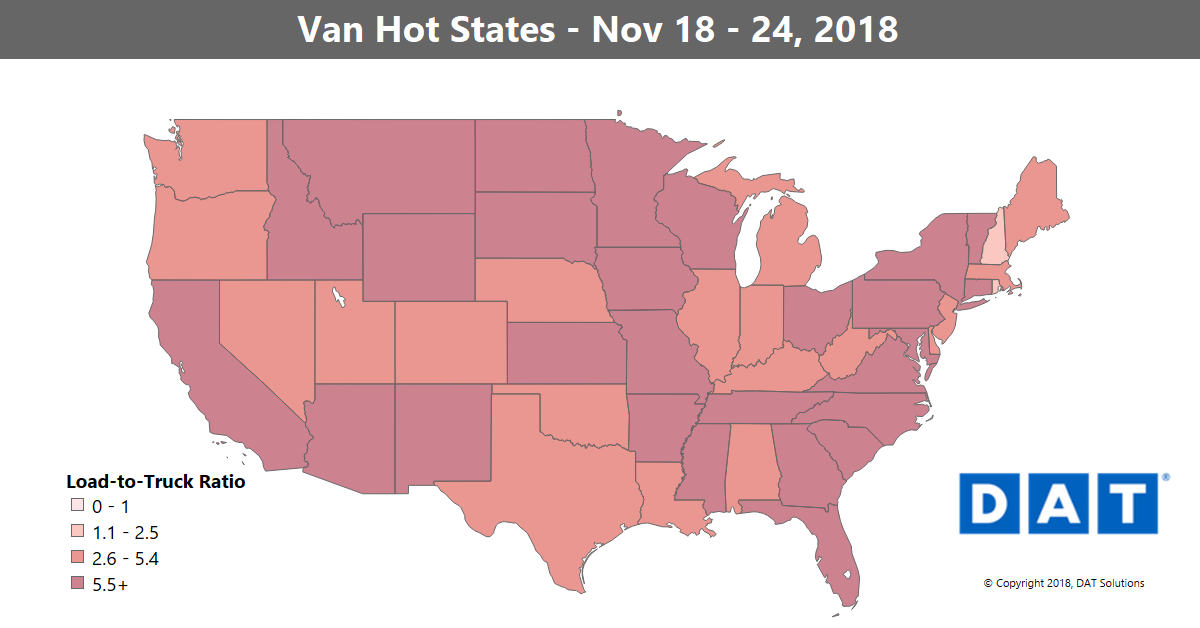 We usually look at the load-to-truck ratio as a way to measure how hot demand is for freight – the number of load post divided by truck posts. Flatbed is in the slow season, so the ratio sank from 18.5 to 15.9 loads per truck last week. Demand for reefer trucks has also softened with Thanksgiving in the rearview, which is why the reefer ratio dropped from 7.5 to 6.2 (that'll edge back up when we get closer to Christmas).
Meanwhile, the dry van ratio surged 21% last week to 6.4 loads per truck.
2017 vs. 2018
Trucks are still a little easier to find than they were around this time in 2017. Everyone has had a year to adjust to ELDs, and shippers are trying harder to avoid the spot market after the big spike in prices we had at the end of last year.
That'll probably make for a less dramatic retail season this year, but we're already on our way to higher prices: Rates rose on 78 of the top 100 van lanes last week.
All rates below include fuel surcharges and are based on real transactions between brokers and carriers.
RISING
Big increases on lanes into the Northeast and eastern Midwest, plus other key retail lanes:
Buffalo to Allentown, PA, up 38¢ to $3.69/mile
Columbus to Allentown, up 23¢ to $3.37/mile
Atlanta to Philadelphia, up 30¢ to $2.41/mile
Memphis to Columbus, up 20¢ to $2.33/mile
Chicago to Detroit, up 22¢ to $3.46/mile
FALLING
Most markets were up. Some, like Los Angeles, were flat, mostly because they were already trending up before last week. The biggest drop was on the lane from L.A. to Denver, down 16¢ to $3.44/mile, which is still a high rate.
Find loads, trucks and lane-by-lane rate information in DAT load boards, including rates from DAT RateView.