Mini-bids have been around for decades, but transportation procurement teams have used them more and more in recent years. The disruptions caused by COVID-19 sped up the adoption even more.
Mini-bids aren't meant to replace the more traditional procurement events that occur annually. Instead, these focus on a subset of lanes within a network, usually new or problematic ones. Depending on the scenario, mini-bids may be run weekly, monthly or quarterly.
This gives companies the opportunity to reassess their transportation spending. By monitoring the latest market data, shippers can address new or problematic lanes within their network, finding more reasonable rates than the spot market.
Read "Maximize Your Mini-Bid: How Short-Term Contracts Produce Long-Term Results"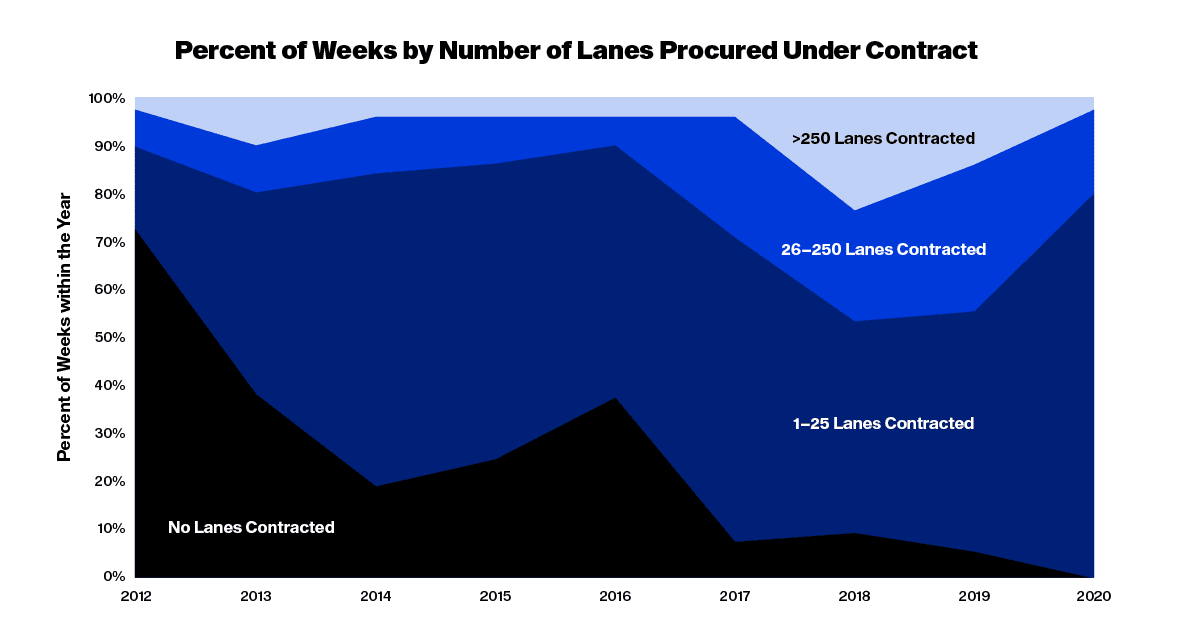 The figure above shows analysis conducted by the MIT FreightLab based on data collected from over 50 shippers.
It shows the percentage of weeks from 2012 to 2020 where a certain number of lanes were entered into the routing guide as new contract rates.
The number of weeks without newly contracted rates has shrunk dramatically over time. Over 70% of the weeks in 2012 didn't see the addition of new contract rates, but by 2020, the dynamic flipped to where almost 80% of the weeks in the year saw 1-25 new lanes contracted. This data provides a clear insight into how much more prominent mini-bid events have grown over time.
To learn how best to implement a dynamic procurement strategy, read "Maximize Your Mini-Bid."