The typical July lull has begun, and spot market rates are drifting down. Every year at this time, load availability declines, at least for the next few weeks. Luckily, the retail freight season should ramp up shortly after that. So, where's the freight?
Van freight is the most plentiful, but so are the trucks, so you are competing with nearly every other carrier. Some of those companies have regular freight in one direction, and they are willing to take a low rate on the return trip, just to re-position the truck for its next haul. If you are looking to the load board for freight in both directions, you'd like to avoid those backhaul lanes if you can, because all those empty trucks compete for scarce freight, driving rates down.
There are still a few hot markets out there. If you can put trucks and drivers in the right place at the right time, there is money to be made – even in July.
Van Hot Markets in Lower Midwest
What do you call that region at the junction of Arkansas, Tennessee and Missouri? Lower Midwest? Western Southeast? Whatever you call it, there are more loads than trucks there right now, and that kind of imbalance favors the carrier. When you look at the map on a state-by-state level, the load-to-truck ratio appears high (darker red areas, below) in Arkansas and Mississippi.
Taking a closer look, you can see that the opportunity for truckers crosses state lines. Loads outnumber trucks in the markets of Little Rock, Joplin, Cape Girardeau, Memphis and Decatur, as shown in the Hot Market Map excerpt below:
The ratio between load posts and truck posts is between 2.8 and 3.2 in each of those markets this week, which is way better than the national average of 1.7 loads per truck.
Other "hot markets" in that general region include Evansville, IN and Hutchinson, KS.
That does not necessarily mean that rates are high in the direction you want to go, but if you have a truck in that region, or you have an inbound load, those are some good places to start looking for van freight.
Hidden Gems on the West Coast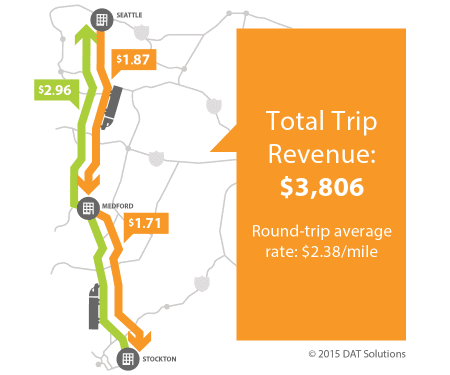 What if you're on the West Coast? California has been pretty quiet for vans this week, but there are opportunities in Fresno (where yesterday's load-to-truck ratio hit 2.9) and on select outbound lanes from Stockton. If you're in the area, look for a load from Stockton or Fresno to Seattle. Typically a weak market for outbound freight, Seattle still offers a decent backhaul rate to Southern Oregon. That's a one-day haul, and after you unload you can pick up another load back to Central California, to yield a round-trip average rate of $2.38 per loaded mile, with minimal deadhead.
Speaking of California, rates have been spiking on the lanes from Southern California markets to warehouses in the Phoenix metro area. This is not due to a surge in demand, but rather to the collapse of a bridge on Interstate 10, about 40 miles west of the California-Arizona border. If you are being offered a surprisingly high rate on one of those lanes, be sure the mileage on your rate confirmation allows for a big detour. That bridge will be out "indefinitely," according to news reports, and traffic from L.A. to Phoenix is going to increase as Asian imports begin to arrive in earnest at the ports of Los Angeles and Long Beach, in preparation for Christmas retail sales.
That brings us around to the initial point: This slump is a bummer, but our data tells us that most of the slowdown is due to seasonal freight cycles. Consumer confidence is way up, which should boost the economy and van freight availability, as retailers build inventory for the expected onslaught of happy Christmas shoppers.
Meanwhile, just hang in there. Santa is coming.