Caterpillar Inc., the world's leading construction and mining equipment manufacturer, recently announced another strong quarterly performance due to higher prices and sales volumes. Second-quarter 2022 sales and revenues were $14.2 billion, an 11% increase compared with $12.9 billion in the second quarter of 2021. In addition, the operating profit margin was 13.6% for the second quarter of 2022, compared with 13.9% for the second quarter of 2021. 
Caterpillar's North American construction industries segment increased by 20% in sales and revenue during the second quarter of 2022, as dealers reduced their inventories less than they did during the second quarter of 2021. Total sales for the segment were $6 billion, an increase of $377 million, or 7%, compared with the second quarter of 2021.
Sales in the North American energy and transportation segment increased 14% to $5.705 billion in the second quarter of 2022, an increase of 15%, compared with the second quarter of 2021. Chairman and CEO Jim Umpleby said, "Our team delivered another good quarter with double-digit top line and adjusted profit per share growth despite ongoing supply chain challenges. Our second-quarter results reflect healthy demand across most of our end markets. We remain focused on executing our strategy for long-term profitable growth."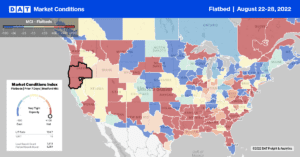 All rates cited below exclude fuel surcharges unless otherwise noted.
Like the reefer market in the Pacific Northwest (PNW) last week, flatbed capacity also tightened following a 36% w/w increase in load posts and a $0.10/mile gain in outbound rates to a regional average of $2.35/mile. Load posts surged in Seattle, increasing by 63% w/w tightening outbound capacity and driving up flatbed linehaul rates by almost $0.20/mile to $2.34/mile last week. In the larger Spokane market to the east, load posts were up 42% in the previous month, while capacity was flat last week, with outbound spot rates averaging $2.48/mile.
Flatbed load posts almost doubled in Savannah last week, but that wasn't sufficient to stop rates from dropping. Outbound Savannah rates averaged $2.72/mile the previous week, down $0.33/mile to $2.72/mile this week. Spot market activity in Pittsburgh was hot last week – load posts jumped 24% w/w, and spot rates increased by $0.21/mile to an average of $2.99/mile. On the Pittsburgh to Toronto lane, spot rates at $4.36/mile are $1.25/mile higher than the previous year and $0.23/mile higher than last month.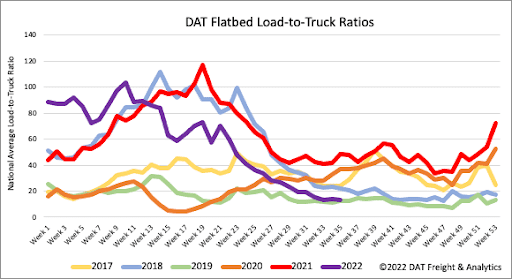 Flatbed load posts are tracking around 7% below 2018 levels as we end August following last week's 9% w/w decrease. Compared to the previous year, load posts are now 60% lower and down by just over 30% m/m. Carrier equipment posts decreased 3% w/w but remained at all-time high levels. To gauge how loose flatbed capacity is at the moment, equipment posts are 51% higher than this time in 2018. As a result, the flatbed load-to-truck (LTR) ratio decreased slightly to 13.02.
Flatbed linehaul rates have dropped by more than $0.04/mile for the fourth week in succession. Since the start of the year, flatbed spot rates have decreased by $0.38/mile, with $0.36/mile occurring since the beginning of June. At a national average of $2.29/mile, spot rates are $0.01/mile higher than this time in 2018 but $0.15/mile lower than the previous year.