The outlook for flatbeds assumes no substantive improvement in current freight market conditions, confirmed on the recent second-quarter earnings call with Daseke, Inc. (NASDAQ: DSKE), North America's most extensive flatbed and specialized transportation and logistics company. Daseke's fleet consists of approximately 4,839 total tractors (up 4.1% year-over-year, or y/y) and 10,886 flatbed and specialized trailers (down 1.5% y/y). The Texas-based carrier reported first-quarter revenue of $407 million, down 15% y/y. The company's second quarter's adjusted operating ratio (OR) was 92%, improving on the 93% OR recorded in the same quarter last year.
Jonathan Shepko, Chief Executive Officer of Daseke, commented, "Looking to the second half of the year, our updated outlook assumes no substantive improvement in current freight market conditions. We expect load availability to remain tight but stable, and absent a deceleration in the wider economy, we expect freight rates to remain stifled in the near term as capacity continues its slow exit from the industry. We expect current conditions to persist for the remainder of the third quarter, followed by a more gradual fourth-quarter slowdown, typical of the seasonality in our prior years. Thus, we anticipate that the second half of 2023 adjusted EBITDA will be between 100% and 110% of the first half of 2023."
Market Watch
All rates cited below exclude fuel surcharges unless otherwise noted.
Flatbed capacity was noticeably tight in Jacksonville last week, where spot rates jumped by $0.42/mile to $2.72/mile for outbound loads following Hurricane Idalia's landfall. In Lakeland's larger flatbed market, spot rates increased by $0.04/mile to $1.49/mile. 
After dropping for the prior three weeks, capacity tightened in Texas, where spot rates averaged $2.07/mile, up $0.05/mile w/w. Spot rates in Laredo, the largest border crossing market, increased by $0.05/mile to $1.79/mile and up by the same amount for inbound loads from Houston, which averaged $2.30/mile last week. 
In the Pacific Northwest, outbound capacity tightened in Medford following last week's $0.18/mile w/w increase to an average rate of $2.92/mile. That's an increase of $0.31/mile in the last month. Further north in Portland, outbound rates mainly were flat at $2.57/mile. 
In the Northeast Region, capacity tightened for the third week following last week's $0.10/mile increase to an average of $2.32/mile. Around the Great Lakes, flatbed carriers were also in demand in Cleveland, Columbus, and Toledo, where spot rates increased by $0.15/mile to $2.45/mile after decreasing for the previous three weeks.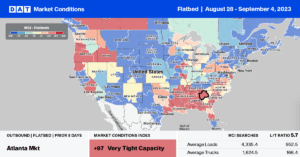 Load-to-Truck Ratio (LTR)
Flatbed spot market volume is around half what it was a year ago and almost half of 2019 volume following last week's 3% w/w increase. Carrier equipment posts were down by just over 8% w/w, resulting in the flatbed load-to-truck ratio (LTR) increasing from 6.18 to 6.51, almost half the 2019 flatbed LTR.  
Spot Rates
After dropping by $0.06/mile over the prior four weeks, the national average flatbed spot rate reversed course last week, increasing by almost $0.03/mile to a national average of $1.94/mile. Last week's average was $0.28/mile lower than last year and only $0.04/mile higher than in 2019.