It's natural to prefer predictability over surprise in many parts of your life, but as the axiom says, "change is inevitable." That is especially true in the factors affecting the transportation industry, whether it's the daily truckload rate from St. Louis to Chicago or the global supply and demand for oil or the interest rates for U.S. dollar-denominated debt.
Last year was a year of extraordinary change. The implementation of the ELD requirement and the corporate tax cut resulted in strong demand, tight capacity, and robust pricing power. Not all of the events of 2018 played out as expected, but the industry knew the changes were coming. With both volumes and pricing strong, the transportation industry prospered, which in turn made the changes and even the unexpected wrinkles in those changes much more tolerable.
Get free weekly updates on the latest trucking trends with the DAT Trendlines.

This year has also seen extraordinary changes, but they're proving to be more unanticipated surprises and come with shrinking prosperity. Starting with FedEx's announcement in December 2018 that the European economy was weaker than they expected it to be, we have seen steadily growing evidence that the rate of economic growth was first slowing and then contracting – first in Europe, then in Asia, and now in the U.S.
Living up to its well-earned reputation, the transportation industry (or more accurately, the freight flows) have once again proven to be early and reliable in predicting the economy.
What do the freight flows say?
Since the beginning of 2019, our economic outlook has shifted, based on changing freight flows. First, it was "We don't expect growth to be as strong as 2018, but see no reason to predict a recession." Then it was "the global economy appears on the verge of entering a recession, but that hasn't dampened growth in the U.S." Now, it's "in almost every sector, in every mode of transportation, in every part of the globe, freight flows are signaling economic contraction."
Since most of these trends have developed over a period of five months, they have not yet created significant alarm.
DAT load boards provide the largest and most trusted digital freight marketplace in the trucking industry.
Flatbed whiplash
However, we believe that the rate of deceleration in freight flows has speeded up dramatically in the last six weeks. As one of our flatbed industry insiders described it to us, "In just six weeks, we have gone from asking for price increases to asking to be partners with our customers to maintain current levels of load volume and keeping pricing flat, to begging and asking how much we needed to cut price in order to get loads." He went on to characterize the rate of change in marketplace dynamics as "whiplash."
One of the clearest illustrations of this rapid marketplace deterioration is represented in real time by the DAT Flatbed Freight Weekly Barometer. Though nowhere near the extreme levels of pricing pressure we saw in mid-2018, the first three and a half months of 2019 still reflected a marketplace in which demand exceeded capacity by a large enough margin that modest price increases could be expected. Since then, capacity has outpaced demand.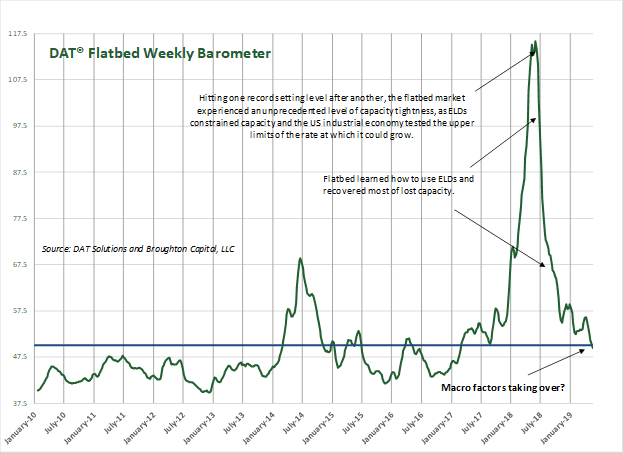 Flatbed demand reached record highs in mid-2018, but the market has cooled. In May, the DAT Flatbed Freight Barometer dropped below equilibrium (50) for the first time since Q1 2017. The DAT Freight Barometers have historically been very accurate indicators of spot market pricing trends for each equipment type.
Is a recession inevitable?
The recent discussions of Mexican tariffs didn't help. Mexico is our fourth-largest trading partner, and over 80% of Mexico's exports are to the U.S. Unless trade disputes between the U.S. and other key trading partners are settled and settled quickly, we appear destined to enter a recession.
If so, those of us who watch the freight flows will be less surprised than those who don't.
Guest opinion from financial analyst Donald Broughton, Principal and Managing Founder of Broughton Capital, with decades of experience in the transportation industry. Contact him at [email protected]