The long-awaited Commerce Department release of June's housing starts and building permit numbers sent mixed messages to the market. However, the 6.32% increase in total home starts was more than expected.
Dampening any good news was the 6.26% drop in building permit applications, a leading indicator of housing starts and ultimately flatbed demand. According to the National Association of Homebuilders (NAHB), higher material costs and shortages of labor and land, continue to constrain builders' ability to meet housing demand.
"While lumber prices have just recently begun to trend downward, builders continue to deal with rising prices of other building materials, such as oriented strand board, and major delays in the delivery of these goods," says NAHB Chairman Chuck Fowke.
For carriers and brokers looking at the regional flatbed market, single-family home starts (the most freight intensive residential construction type) are up 28% year-over-year and 14% since last month in the Southeast Region where 54% of all new single-family homes are constructed.
The West Region, which accounts for around 25% of residential construction, reported a 27% annual increase in June. To put these numbers into perspective, the Southeast Region started construction and/or completed 858,000 more homes in the first 6 months of 2021 compared to the same period last year.
Find loads and trucks on the largest load board network in North America.
Note: All rates exclude fuel unless otherwise noted.
The Baker Hughes Rig Count, which is an important business barometer for the drilling industry and its suppliers, has almost doubled in the last year. This activity is driving a lot of flatbed volumes out of the Houston market (for drill pipe, casing, machinery etc). For loads from Houston to Oklahoma City, flatbed rates are up $1.50/mile since March to an average of $3.48/mile.
To Bismarck, ND, home to the Bakken oilfield, spot rates spiked last week to an average of $3.26/mile. However, loads west from Houston to Lubbock in the Permian Basin oilfield area, levelled off at $3.31/mile last week but remained up $1.60/mile compared to the same time last year.
Spot rates
Flatbed spot rates dropped another $0.02/mile last week to an average of $2.69/mile. This is the third week in a row rates have been sliding downwards. However, the rates remain $0.66/mile higher than the same week last year and $0.22/mile higher than the same time in 2018.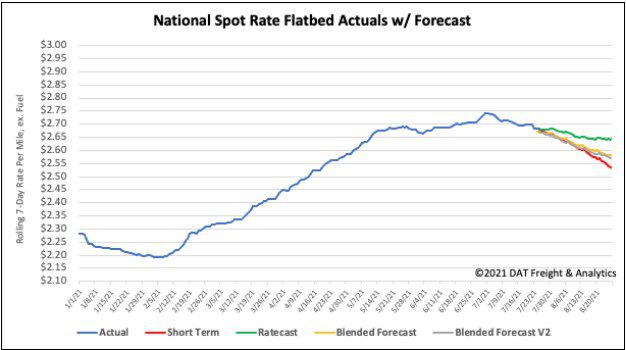 How to interpret the rate forecast:
Ratecast: DAT's core forecasting model
Short Term Scenario: Formerly the pessimistic model that focuses on a more near-term historical dataset
Blended Scenario: More heavily weighted towards the longer-term models
Blended Scenario v2: More heavily weighted towards the shorter-term models