Demand for flatbed loads have been red hot for months, and so are rates. It seems like every week we set a new record for flatbed rates or load-to-truck ratios, or both. Flatbed volumes in June are 32% higher than they were one year ago in our top 78 flatbed lanes, and rates in those lanes are 26% higher than last year at this time.
We are, however, seeing signs that the flatbed market is beginning to cool a bit. Last week the flatbed load-to-truck ratio fell for the second week in a row, dropping 12% to 77.9 loads per truck. While still very high, that's the lowest load-to-truck ratio since February. Load-to-truck ratios hovered above the 100 mark for seven consecutive weeks in April and May. Also last week, the national average flatbed rate dipped 1¢ to $2.81/mile. That's a sign that rates are reflecting the declining load-to-truck ratio, but June is still on track to the highest monthly average rate since DAT introduced RateView in 2010, if not ever. So "cooling off" is a relative term.
DAT load boards provide the largest and most trusted digital freight marketplace in the trucking industry, with more than 270 million load and truck posted annually, plus insights into current spot market and contract rates based on $45 billion in real transactions.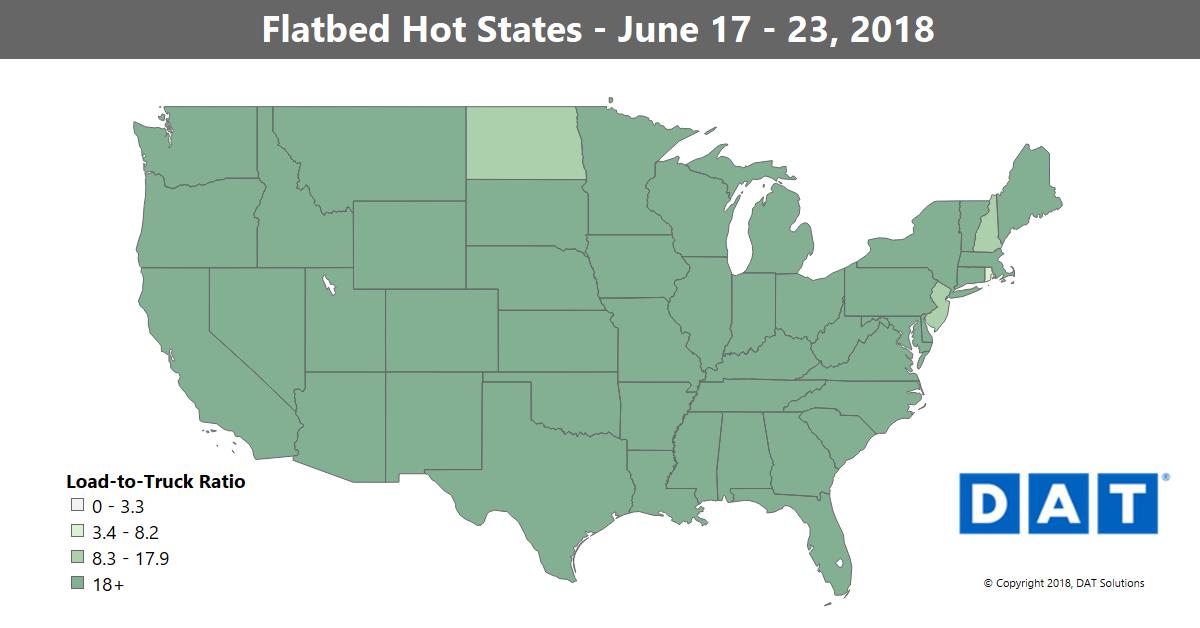 Flatbed demand is extremely strong throughout the country. Last week every state except North Dakota, New Hampshire and New Jersey had a load-to-truck ratio above 18 loads per truck.
RISING MARKETS
Some of the hot spots for flatbeds last week included Las Vegas and Phoenix in the West, and the Raleigh-Greensboro-Roanoke markets in the Southeast. Hot lanes included:
All rates below include fuel surcharges and are based on real transactions between brokers and carriers.
Las Vegas to Phoenix rates exploded, rocketing up $1.44 to $4.53/mile
Houston to Bismarck, ND jumped 76¢ to $3.14/mile
Harrisburg, PA to Buffalo was also up 76¢, to $4.25/mile
Birmingham to Mobile, AL increased 67¢ to $3.30/mile
FALLING MARKETS
Rates declined on certain flatbed lanes, but these falling lanes are still paying more than $3.00/mile:
Atlanta to Baltimore, an export lane, tumbled 94¢ to $3.38/mile
Houston to Oklahoma City slipped 52¢ to $3.44/mile
Cleveland to Harrisburg, PA dropped 51¢ to $3.89/mile, which is still very high
In April and May the flatbed load-to-truck ratio hovered above 100 loads per truck for seven weeks in a row.
Find loads, trucks and lane-by-lane rate information in DAT load boards, including rates from DAT RateView.