In a normal hurricane season, there would be about 13 named storms in the Atlantic Ocean from June through November. Around five of those might become hurricanes.
But 2017 was no normal hurricane season. Three hurricanes made landfall in the U.S. in less than a month: Hurricanes Harvey, Irma, and Maria.
Irma damaged part of Puerto Rico, and Maria made landfall on the island 10 days later. As many as two-thirds of the houses on the island were damaged or destroyed. With limited access to electricity and no cell phone service, it was difficult for the Federal Emergency Management Agency (FEMA) and other organizations to deliver food and water to the island's residents.
"We have never seen such devastation," said Sergio Sandrin, president of Aqua Gulf Transport. His company has been moving its customers' freight to and from the Caribbean islands for decades.
Register for DATCON19 to hear Sergio Sandrin discuss niche marketing for freight brokers.
Recovery efforts hit extra obstacles
Less than two weeks before Maria, FEMA had sent emergency supplies from Puerto Rico to the Virgin Islands, to help residents recover from Hurricane Irma. When Maria hit, the government's Puerto Rico-based warehouses had not yet been replenished.
Worse, when FEMA and private companies, including Aqua Gulf, resumed deliveries to Puerto Rico by steamship a few days after the storm, only a few truck drivers were available to move the freight inland. Most trucks in Puerto Rico are driven by owner-operators, and most of them were busy tending to their own storm-ravaged homes. Freight began to pile up at the port. 
Aqua Gulf was able to reopen its offices and warehouses on the island to provide resources for their employees, while the company's offices on the U.S. mainland handled the day-to-day work.
"We made sure our facilities were up and running quickly," Sandrin said. "It was so important to our employees that they could eat a meal, take a shower, make a phone call, and enjoy a clean, dry, air-conditioned environment." Some employees brought their families to work with them because there was no power, water, telephone, or internet access at home. 
Aqua Gulf's San Juan office also accommodated a number of customers who were unable to work in their own offices for as long as two months. 
Disaster relief distribution
To resume supply chain activities as quickly as possible, the company shipped products out of Jacksonville, FL, to its warehouse facilities in Puerto Rico, for distribution to stores and individual families.
In addition to handling customer shipments, Aqua Gulf's employees in Puerto Rico played an essential role in coordinating relief efforts. "Our company and our people know the island so well that they were able to make deliveries that nobody else could handle," says Sandrin. "That's something even FEMA could not do, or not at first."
Aqua Gulf also collected donations that the company managed out of its Jacksonville warehouse. "We were overwhelmed by everyone's generosity," Sandrin said. "Aqua Gulf ended up accepting over a million pounds of goods. Then we packaged everything up, shipped it to our warehouses in Puerto Rico, and our employees there spent many weekends distributing supplies to people all over the island."
After the storm cleared, Aqua Gulf employees in Puerto Rico packaged and delivered donated supplies, including toiletries, paper goods, and other necessities.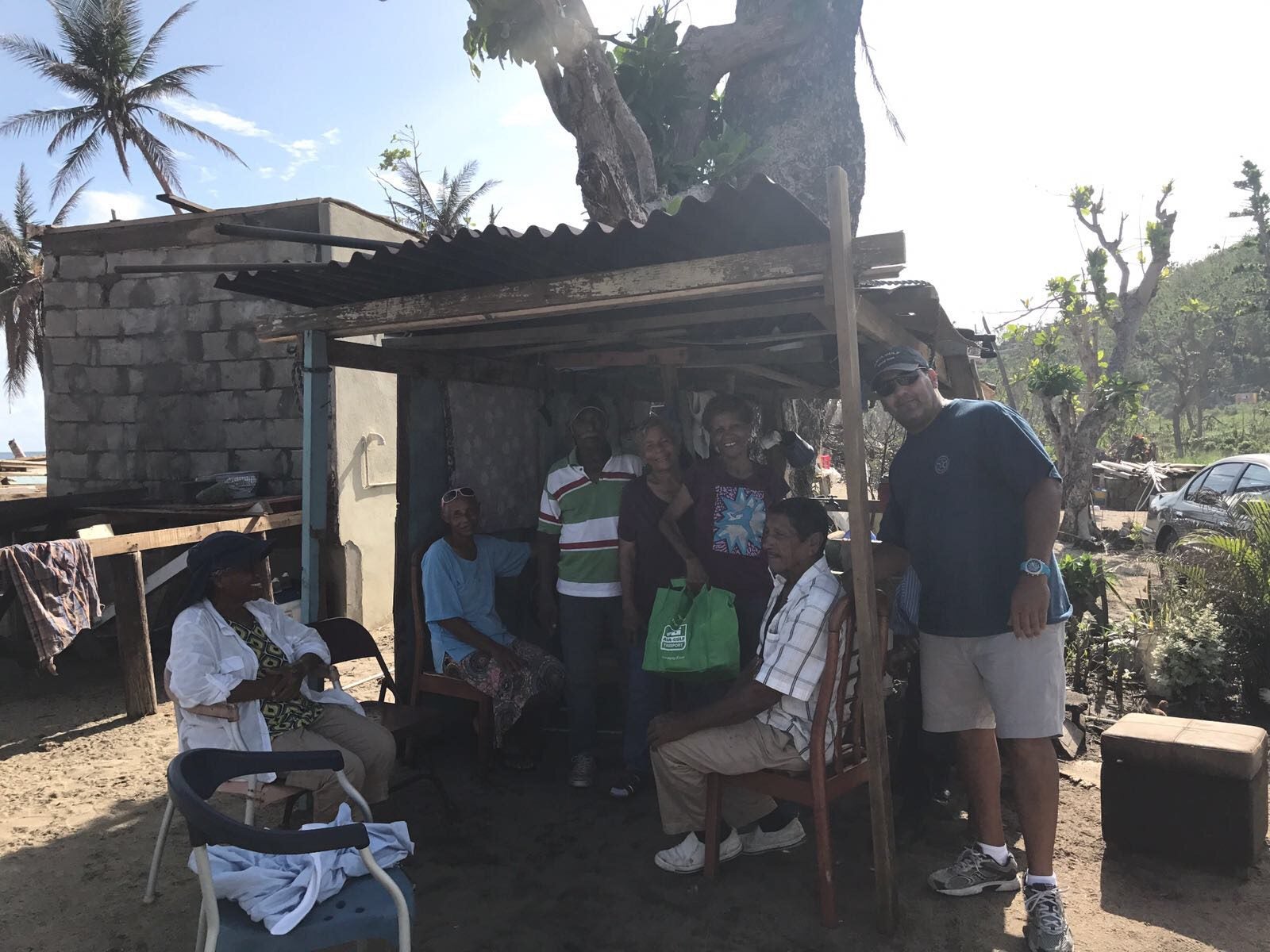 Aqua Gulf employees spent their weekends delivering emergency supplies in Puerto Rico. A million pounds of goods were donated by the company's employees, neighbors, and friends in Florida.
Interested in delivering emergency freight?
Sandrin offers a few tips for logistics and transportation companies:
Rookies need not apply. Don't sign up for emergency freight from FEMA or another agency unless you have experience with disaster relief or you know the affected area very well. 
Discourage employees from taking unnecessary risks. This goes double for drivers. Hurricane-affected areas are often extremely dangerous even after the storm has passed.
Join a team. If you decide to get involved, don't go it alone. Work with ALAN or another reputable organization that can coordinate the relief efforts and deploy resources
Be specific about terms and conditions for your involvement, or you may lose control of your truck and trailer, and strand your driver without appropriate compensation.
Expect the unexpected. Even if you stay far away from the storm zone, you may run into some unanticipated changes in your customers' supply chains, truck routes, and transportation pricing. 
Solicit donations of money, not goods. Most relief organizations prefer to purchase and distribute emergency supplies in bulk, and many will not even accept individual donations of physical goods. Plus, soliciting donated goods can be a huge project, as Aqua Gulf learned during Hurricane Maria. If your company is not prepared to devote significant resources to collecting and distributing relief supplies, stick with monetary donations.
Got questions about emergency freight and FEMA loads? Check out these resources.