Mark Boyer has spent his whole career in the trucking and logistics industry, with a front row seat for all kinds of new technologies, including many products from DAT.
Last year, DAT celebrated its 40th year and we reminisced with Boyer, who serves as Vice President of Brokerage for Keller Logistics in Defiance, Ohio. Keller is an asset-based brokerage with a 150-truck fleet, plus packaging and warehousing services.
Learn more about DAT Power, the biggest and best load load.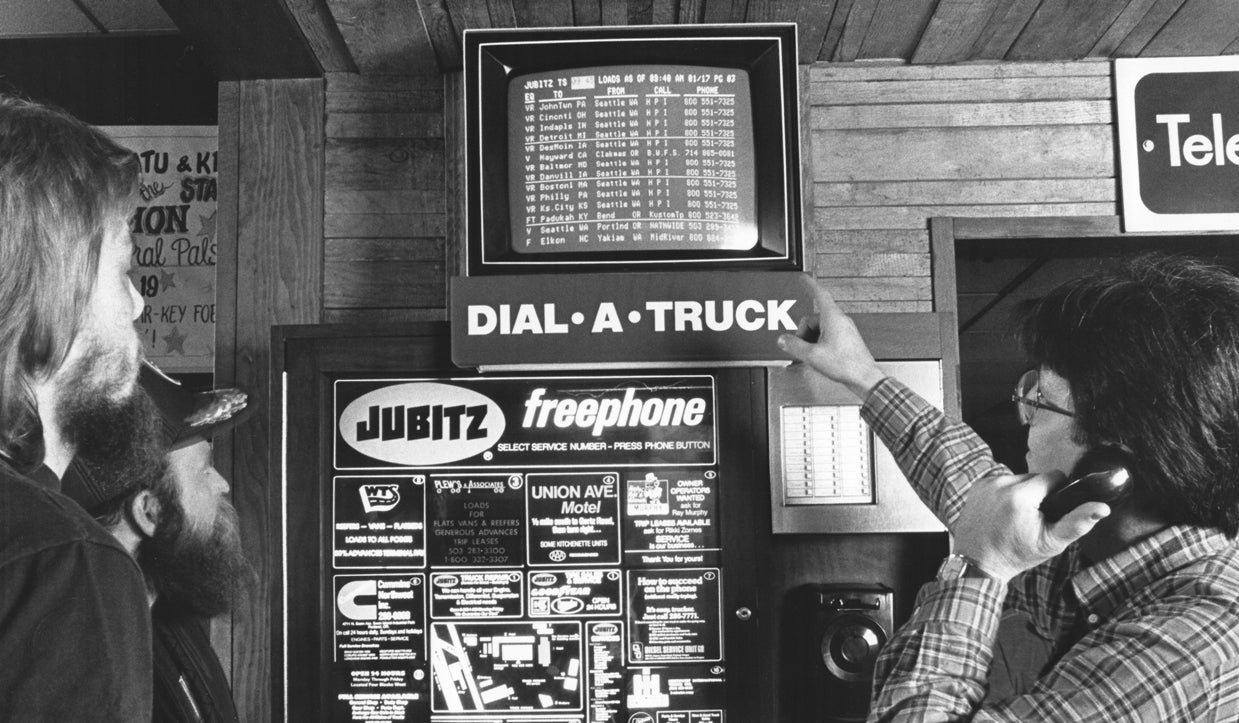 Dial-A-Truck monitors first appeared at Jubitz Truck Stop in Portland, Oregon in 1978.
Load board reduces leg work
Boyer's first encounter with DAT came in the 1980s when he was working as a dispatcher in Toledo, Ohio, for a regional truckload carrier. When his company had overflow freight, he would drive down to Exit 5 on the Ohio Turnpike where there was a concentration of truck stops.
"About two days a week I would go down there and just talk to the drivers," Boyer said. "If they were empty, I'd ask them what direction they were going and see if they wanted a load."
Meanwhile, the Dial-A-Truck (DAT) service launched at Jubitz Truck Stop in Portland, Oregon, with a video monitor that displayed available loads. The new electronic system gradually replaced handwritten notes pinned to bulletin boards — often called "load boards" — at truck stops across the country.
Boyer's company starting posting its loads on the DAT monitors. He didn't need to visit the truck stops any more, because truckers were able to view and accept his company's loads even while he was back at the office.
Mark Boyer in 1984, working for a company called National Piggyback Services.
Carrier validation made easy
Boyer tried other DAT products at various trucking and logistics companies, including Conway headquarters in Ann Arbor, Michigan, where he worked from 2003 to 2016.
Conway, a large 3PL, had the latest computers and software, according to Boyer. He remembers being trained on DAT CarrierWatch, which provides full information on each carrier's authority, safety record and insurance, to streamline carrier validation and monitoring.
"Previously, it was more of a manual process," he said. "We'd have to log into the DOT website and look up each carrier. And they certainly didn't notify us if there were changes in a carrier's authority or insurance."
Mark Boyer today.
When rate data was just a "holler" away
DAT RateView is another DAT product that made life easier for brokers, Boyer said. Beginning in 2010, he and his colleagues were able to validate their own pricing against current market rates on 65,000 point-to-point lanes.
"Previously, if someone needed a price on a lane, the broker would simply yell out 'Cleveland to Dallas, van' and someone would yell back what they had paid recently," Boyer said.
What's your first memory of DAT? Where do you fit on the DAT timeline?