For the second week in a row, national average van rates remained at their highest level in nearly two years.
The week before last, van load-to-truck ratios spiked. That was the result of going from a 4-day work week (Memorial Day week) to a five day week, plus reduced capacity as truckers stayed home and waited out the annual Roadcheck inspection blitz. Van rates jumped 6¢ that week. But rather than drop last week, van rates held steady at $1.79 per mile.
s.
————————————-
Brokers and shippers had a harder time finding trucks last week, so they paid a premium in most major markets and lanes. Capacity was tighter because of the annual Roadcheck inspection blitz, and with the added pressure caused by this year's steadily increasing spot market demand, national average rates hit levels we haven't seen in the past two years.
For van freight, last week's national load-to-truck ratio was the highest it's been since mid-2014. Pretty much every major van market had higher rates compared to the week before. For the month of May, the biggest rate increases were on outbound lanes from Memphis and Charlotte in the South, and Los Angeles and Stockton in California.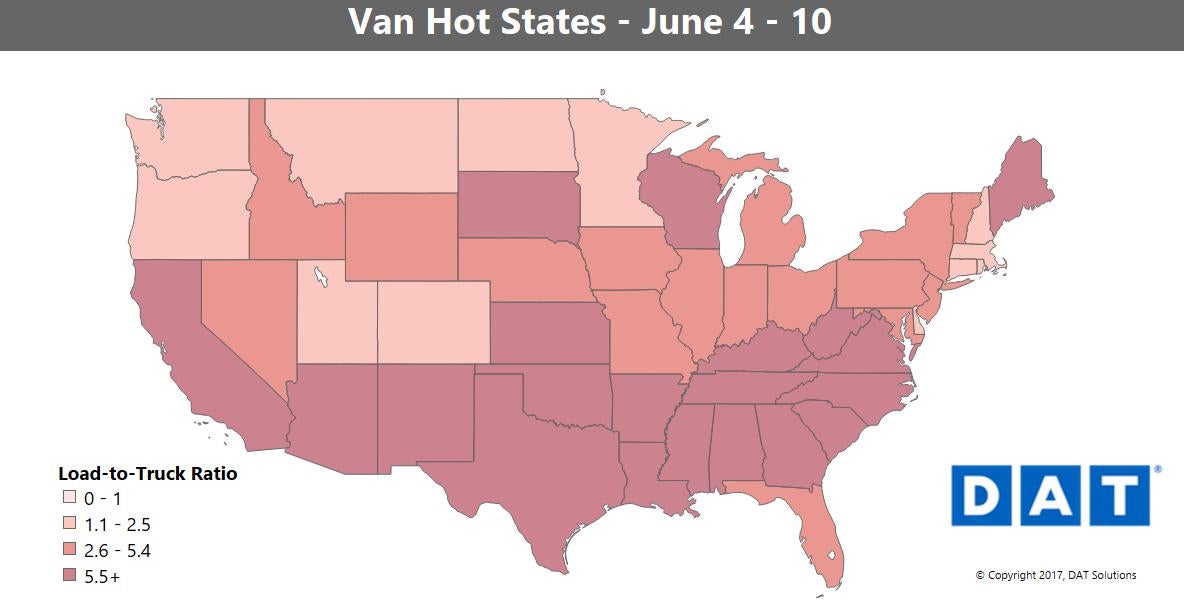 Load-to-truck ratios are highest for vans in the darker red areas on the Hot States Map above.
All rates below include fuel surcharges and are based on real transactions between carriers and brokers.
RISING
Prices on the Memphis to Columbus lane kept climbing, up another 26¢ to $2.26/mile
Rates were also way up on the lanes from Memphis to Indianapolis and Memphis to Dallas
Chicago volumes continued to improve, and rates on the lane to Buffalo rose 15¢ to 2.48/mile
Out west, L.A. to Denver rose 22¢ to $2.72/mile
Even Denver to Stockton was up 12¢ — it still averaged just $1.21/mile, but the headhaul direction from Stockton to Denver also rose at $2.23/mile
FALLING
Of the top 100 van lanes, only 26 had lower rates. There were only a couple of significant drops last week:
Charlotte rates were up on average, but the lane to Buffalo fell 30¢. Rates were still high on average, though, at $2.44/mile
Falling oil prices might have led to lower demand on the lane from Houston to New Orleans, where rates fell 29¢ to $2.33/mile
Find loads, trucks and lane-by-lane rate information in the DAT Power load board, including rates from DAT RateView.