In recent years, there's been a spike in spot market rates in December. That hasn't happened so far in 2018. Prices could still go up if there's a capacity crunch around the holidays or if winter weather disrupts supply chains. But for the time being, rates are going the opposite direction.
Dry van pricing and activity continues to slow as we creep closer to winter. On the top 100 van lanes, rates fell on 62 of them.
DAT load boards provide the largest and most trusted digital freight marketplace in the trucking industry, with more than 279 million loads and trucks posted annually, plus insights into current spot market and contract rates based on $57 billion in real transactions.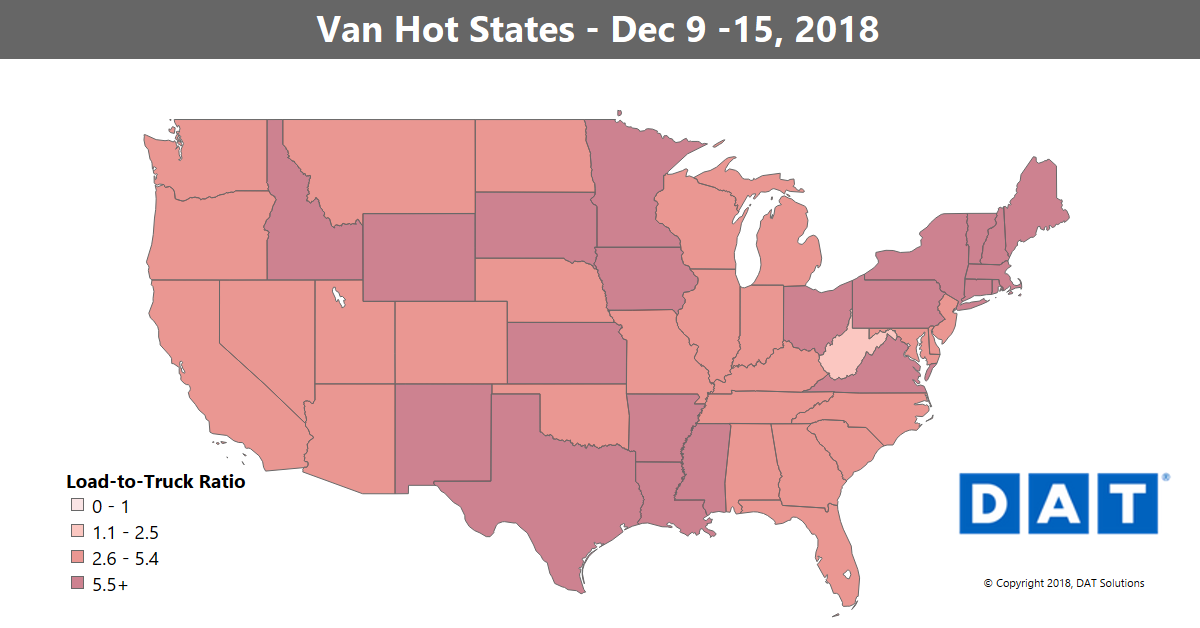 Los Angeles finished up early this year, perhaps due to gains made by intermodal in recent weeks which took freight away from the truckload markets. Outbound rates there will likely be soft on into the first quarter.
All rates below include fuel surcharges and are based on real transactions between brokers and carriers.
The average rate on the lane from L.A. to Atlanta fell 20¢ to $1.95/mile
The biggest drop was on the lane from Buffalo to Allentown, PA, which fell 30¢ to $3.32/mile
Prices were down in the other direction too: Philly to Buffalo fell 19¢ to $2.50/mile
The lower-than-expected demand for freight into the Northeast suggests that shippers overcompensated this year by booking freight on intermodal and contract carriers in order to avoid the sort of spikes we saw in the spot market around this time last year.
Pricing was more stable in Texas, with changes mostly slight on the high traffic lanes from Dallas and Houston. Chicago also slipped less than other major markets. One significant increase was on the lane from Allentown to Richmond, VA, up 27¢ to $2.85/mile.
Find loads, trucks and lane-by-lane rate information in DAT load boards, including rates from DAT RateView.