Reefer rates and volumes continued their summer slide. The load-to-truck ratio was down 16.8% last week, meaning there's a lot of competition for refrigerated freight.
The decline stings more since reefer trends have disappointed so far this year. Unpredictable weather has hurt produce harvests, and reefer markets have suffered as a result. That also creates a drag on van rates, with more reefer carriers competing for dry van freight. 
Looking for reefer loads? DAT load boards are the largest and most trusted digital marketplace for truckload freight.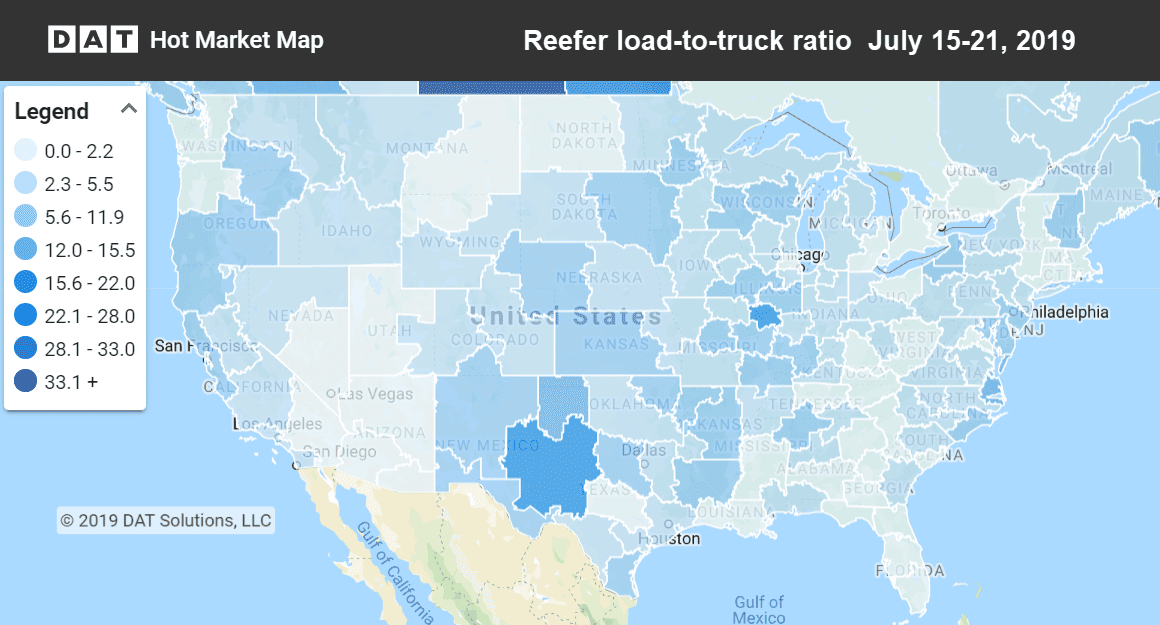 Rising
Rates out of Sacramento and McAllen, TX, held up better compared to most markets. Pricing improved out of McAllen, but volumes plunged along the border in Nogales, AZ. 
Green Bay to Des Moines rose 35¢ to $2.85 
Grand Rapids, MI, to Cleveland increased 15¢ to $3.30
McAllen to Atlanta jumped 12¢ to $2.10 
Falling
Miami is starting to cool off from their spike in rates last week, with lanes out the city all seeing a significant decrease. 
Lakeland, FL, to Baltimore fell 44¢ to $1.59
Miami to Baltimore plunged 45¢ to $1.43
Green Bay to Wilmington, IL, dropped 35¢ to $3.27
Find loads, trucks and lane-by-lane rate information in DAT load boards, including rates from DAT RateView.