Reefer activity picked up after Thanksgiving, but not nearly as much as dry van freight. Right now, retail and e-commerce are driving trends in the transportation industry, which has lifted van rates, but prices fell on a lot of the major reefer lanes.
Demand for reefers could heat up again as we get closer to Christmas. Meanwhile, meat and potato-growing regions in the Midwest saw big upticks in volumes last week, and fresh fruit and vegetables boosted load counts out of California.
DAT load boards provide the largest and most trusted digital freight marketplace in the trucking industry, with more than 279 million loads and trucks posted annually, plus insights into current spot market and contract rates based on $57 billion in real transactions.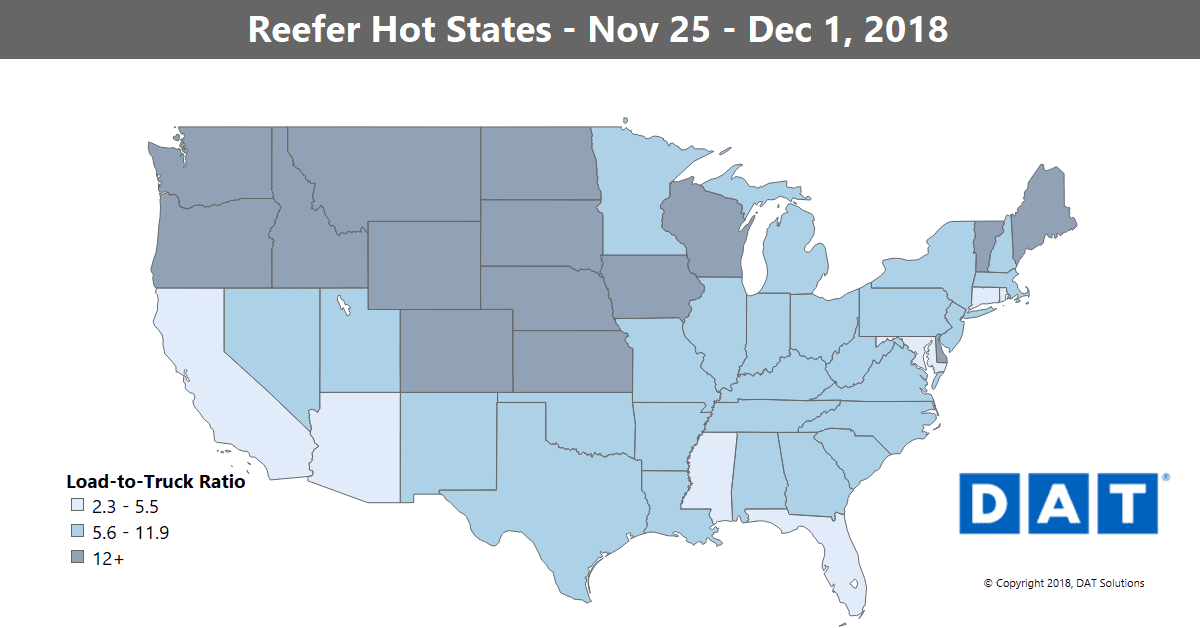 Rising Lanes
The biggest increases were scattered across the country.
All rates below include fuel surcharges and are based on real transactions between brokers and carriers.
L.A. to Denver was up 29¢ at $3.52/mile
Elizabeth, NJ, to Boston rose 28¢ to $4.43
McAllen, TX, to Atlanta rose 25¢ to $2.36
Twin Falls, ID, to Baltimore gained 24¢ at $3.26
Falling Lanes
Florida rates backed off after some off-season increases earlier in the month. Miami to Elizabeth, NJ, dropped 28¢ to $1.86/mile
Pricing a couple long-haul California lanes stalled:
Ontario to Chicago, down 26¢ at $2.13
Fresno to Baltimore fell 29¢ at $2.41/mile
Find loads, trucks and lane-by-lane rate information in DAT load boards, including rates from DAT RateView.