The holidays are over, and there's not a lot of fresh produce being harvested in the U.S. So why are rates for refrigerated equipment higher than they were last year at this time? Reefer freight volume is stable compared to pre-holiday levels. Truckload rates remain elevated for reefer equipment in mid-January, and freight volume is stable.
What's going on?
It's normal for reefer freight volumes to increase from December to January, but rates usually slip lower as winter takes hold. There were two exceptions to that pattern: Rates rose month-over-month in January 2014 and 2018. In both those years, the rising rates in January were part of a longer-term trend.
Looking for fresh loads and trucks? DAT loadboards are the best place to find them, in the number-one marketplace for truckload freight.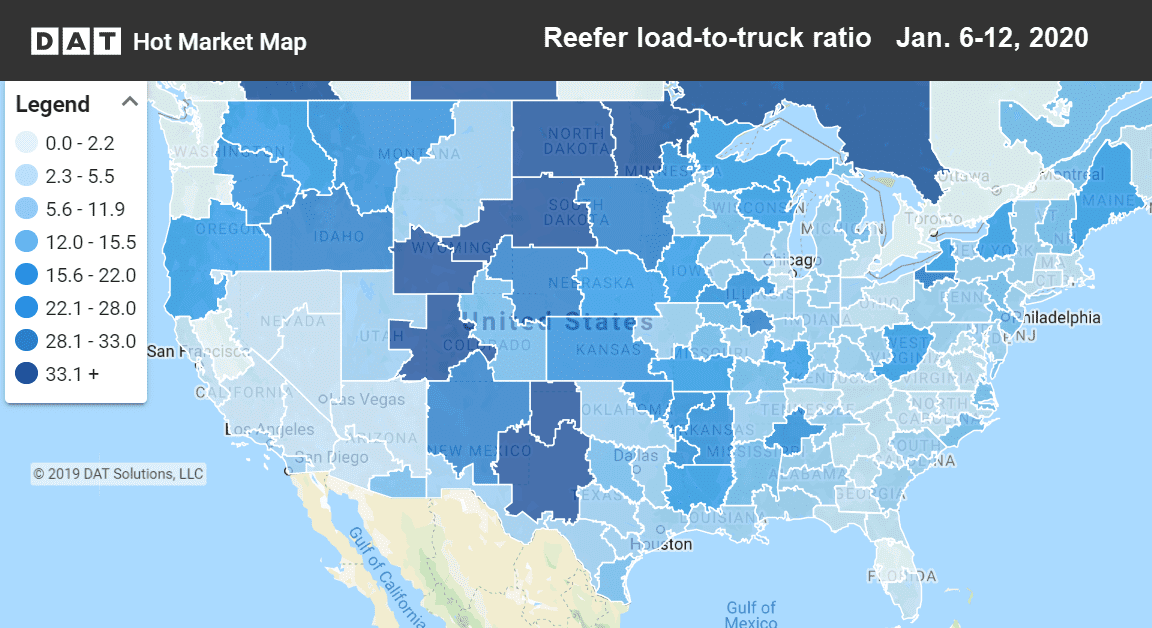 Hot Market Maps are a feature of DAT RateView and the DAT Power load board. Darker colors indicate a higher load-to-truck ratio in that market area. A change in the load-to-truck ratio often signals a corresponding change in truckload rates.
National averages give you some understanding of the big picture, but when you're looking for loads and trucks this week, the only trends that matter are the ones within a 100- or 150-mile radius of the load's origin. From the carrier's perspective, you shouldn't have trouble finding a load in most of the usual places, but rates trended up last week on only 15 of the top 72 high-volume lanes. Most of those rate improvements were in the West, originating in markets such as Twin Falls, ID, Tucscon, AZ, Ontario, CA, and Stockton, CA. Texas markets were a mixed bag.
Twin Falls to Phoenix added 11¢ per mile, to $2.72, but there were more loads heading to Los Angeles for $2.47 (up 4¢ from the previous week)
Tucson to Chicago rates rose 6¢ to $2.28 per mile
Ontario to Stockton edged up to $2.83, a 2¢ increase, and the return trip from Stockton to Ontario paid $2.44, down 8¢ from the previous week.
Los Angeles to Stockton rates increased 5¢ to $2.93, and L.A. to Stockton lost 4¢ to $2.55
Dallas to Atlanta gained 15¢ to $2.27 and Atlanta to Dallas held steady at $1.78. Not fabulous.
On the downside, rates dropped like a rock on lanes heading north from the Miami and Lakeland, FL, markets, and McAllen, TX outbound rates were mixed.
Miami to Baltimore rates plummeted 21¢ to $1.70 per mile, and Baltimore to Miami paid $2.16 last week. There's not a lot of freight in either direction. As the Disney princess said: "Let it go."
Lakeland to Charlotte fell  to $1.53, which is the same as the December average. Charlotte to Lakeland paid $2.51 per mile last week, down 16¢. Not a great roundtrip.
McAllen, TX, to Dallas dropped 7¢ to $2.66, and Dallas to McAllen fell 2¢ to $1.83
Carriers may be asked to provide a reefer to protect temperature-sensitive cargo from freezing, especially in the Midwest and Northeast. When weather requires that extra insulation, driving conditions can often be hazardous. Check the forecast before choosing your route and be careful out there.