Even as the summer slump continues, July is still on pace to beat May volumes, with a national average van rate that's about 5¢ per mile higher than it was before the June peak. 
Overall volumes did slip last week, and 68 of the top 100 van lanes had lower rates. The week ended with strengthening trends, though, with California summer produce running at higher levels last week for both vans and reefers.
The biggest volume increase in the top van markets came from Los Angeles (up 6%), and produce is running strong from both the San Francisco and Fresno markets, although sufficient capacity is dampening the rate impact.
Looking for van loads? DAT load boards are the largest and most trusted digital marketplace for truckload freight.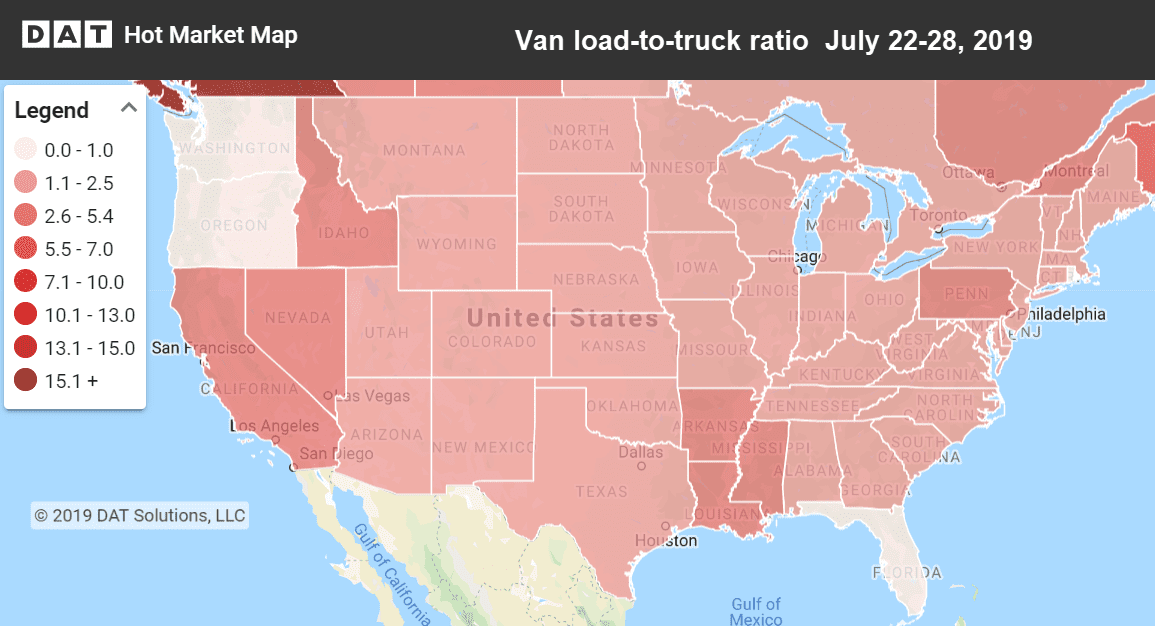 Hot Market Maps in DAT Power and DAT RateView show where trucks are hardest to find. The darker the color, the less competition there is for truckload freight.
Rising Rates
Seattle outbound rates rebounded, but prices are still low from that market. Otherwise, western markets generally held up better, while the Southeast continued to slip. 
Seattle to Salt Lake City climbed 18¢ to $1.84/mi
Seattle to Spokane increased 8¢ to $2.98/mi
Columbus to Memphis rose 7¢ to $1.67/mi
Falling Rates
Memphis rates slipped on 8% lower volumes. In general, most freight markets are losing ground in July. 
Atlanta to Philadelphia dropped 18¢ to $2.16/mi
Charlotte to Allentown fell 13¢ to $2.30/mi (down 38¢ this month)
Atlanta to Chicago declined 12¢ to $2.30
Memphis to Charlotte decreased 12¢ to $2.04/mi
Find loads, trucks and lane-by-lane rate information in DAT load boards, including rates from DAT RateView.