Demand for reefers in the Pacific Northwest has also boosted van demand in that area, since reefers are competing less for van loads in places like Idaho and Eastern Oregon. Vented vans can sometimes substitute for reefers to haul fall season crops such as potatoes, apples and onions.
Load-to-truck ratios were high in New Mexico, as shown below by the dark red area in the Hot States Map, but the number of loads there is still relatively low. Daily maps, along with detailed information on demand, capacity and rates for individual markets and lanes, can be found in DAT Power Load Boards and in DAT RateView™.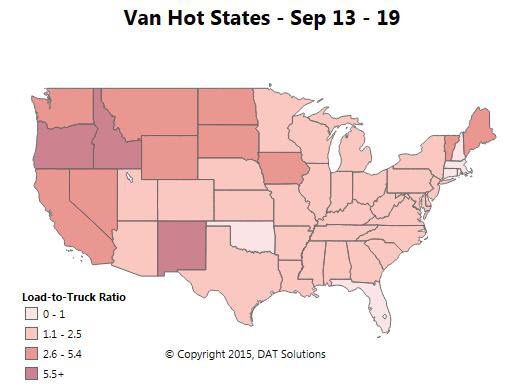 Last week was the first full work week following Labor Day. With the extra workday, van load posts rose 10.5% compared to the previous week, while truck posts were up 31%. This actually indicates a decline in demand. When there are five workdays instead of four, a 20-25% increase in all load board activity would be expected. As a result, the national average load-to-truck ratio fell 15.5%, from 2.0 to 1.6 loads per truck on DAT Load Boards.
Spot market rates for vans fell 2¢ to a national average of $1.75 per mile, as demand dipped after Labor Day. Rates are still higher than they were in August, but most markets slipped lower last week. California was a bright spot, with outbound rates in Stockton seeing an uptick and Los Angeles prices holding steady. Rates are derived from DAT RateView and are based on actual rate agreements between freight brokers and carriers. Reference rates include fuel surcharges but not accessorial or other fees. This map of van rates in key regional markets can also be found on DAT Trendlines.
DAT TriHaul of the Week
Ordinarily, you might turn down a load from Chicago to Denver, because outbound rates in Denver are never good. Today, you might take it – but create a TriHaul route to get you out of Denver without losing your shirt.
Rapid City, SD is hot right now for vans, with a load-to-truck ratio of 6.7. If you can fit this into your schedule, find a load from Denver to Rapid City and another one from Rapid City back to Chicago. You'll add more than $1,000 to your total roundtrip revenue, with an increase of 30¢/mile to an average of $1.84 for all loaded miles.
TriHaul route suggestions are offered in DAT Express and DAT Power load boards, and rates are derived from DAT RateView.