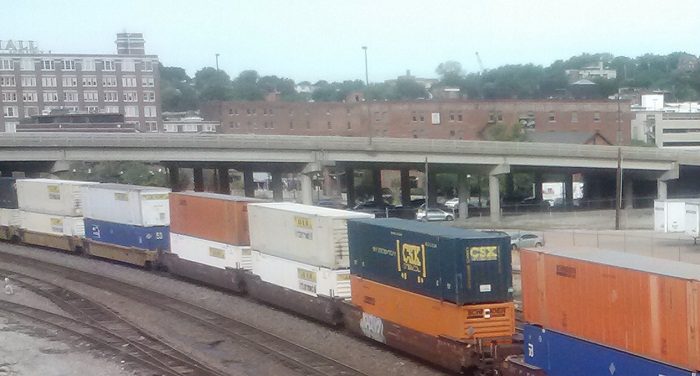 Intermodal containers, many owned by large for-hire carriers, are double-stacked on flatcars in Kansas City. (Photo by Mark Montague)
Harsh winter weather continues to disrupt freight patterns. The American Trucking Associations cited the recurring ice and snowstorms for a decline in its tonnage index in January, and a slew of financial analysts are also blaming extreme winter weather for lackluster numbers in employment and consumer demand.
Manufacturing outperformed expectations in February, on the other hand, according to the Institute for Supply Management. The stock market is up too, most recently on news of a decline in new unemployment claims. DAT saw a 14% increase in spot market truckloads moved per day in February compared to January.
Is it the weather, or is there something else going on? I look to the railroads for a clue. Rail lines can't be relocated when the weather turns bad, so the lines in the Midwest and on the East Coast, including CSX and Norfolk Southern, have not fared well in this winter's bitter cold and storms. Union Pacific, however, operates mostly in the West, and it has weathered the first quarter well so far. The company's stock is up 10.6% since January 1, outperforming the transportation sector by a 2-to-1 margin, according to CNN Money.
What does this mean for trucking companies? This winter shows how tenuous capacity can be, with shippers unable to get equipment in a timely way, causing huge pressure on rates. The weather may have further accelerated shippers' growing demand for rail intermodal services. It is evident that the largest truckload carriers are already getting involved in intermodal in a big way. Check out this photo I took in Kansas City a few months ago, and see the familiar names: Swift, Schneider and J.B. Hunt, as well as CSX and APL Logistics. Those are 53-foot containers, double-stacked on flat cars. Each container holds about the same amount of freight as a standard, 53-foot, over-the-road trailer.
Everyone is getting on board. In response to a recent speech by President Obama on increasing fuel efficiency for heavy trucks, the Washington Post ran an article titled "Let's make an effort to move more freight by rail and less by road. Trains are more efficient." That same article showed up two days later in a daily news digest published by none other than the American Trucking Associations. I don't know whether the ATA meant to endorse this viewpoint — I would assume not, after reading this press release from ATA, but I could be wrong.
The potential for a driver shortage is not going away. I see this as not only a wage issue but a lifestyle choice. Trucking companies have struggled with recruiting drivers for jobs that involved extended travel away from home. That's a big factor behind the shift of long-haul freight from truck to rail. This creates more short-haul business for drayage companies, which have been able to expand and thrive.
Small, over-the-road fleets can be successful if they are able to handle longer-distance drayage operations, or if they focus strategically on lanes and cargo types that don't lend themselves readily to intermodal. In intermodal-competitive lanes with commoditized cargo, however, all-truckload fleets will need to cut costs to the bone in order to remain profitable.
Freight brokers and 3PLs are increasingly being asked by shippers to quote rail intermodal transportation, sometimes to the exclusion of truckload. I heard Danny Simon of Load Delivered Logistics say exactly that in a recent webinar. We all love trucking, but it can be good to diversify your business, to mitigate risks and protect against unexpected shifts in the marketplace.