Dry van load posts on the DAT One load board network increased by just over 2% last week in the top 10 markets, which typically represent around 25% of weekly load posts.
Memphis held the number one spot despite volumes dropping 12% week over week. Capacity eased as a result, with spot rates dropping $0.02/mile to an average of $2.83/mile excluding fuel.
Find dry van loads and trucks on the largest load board network in North America.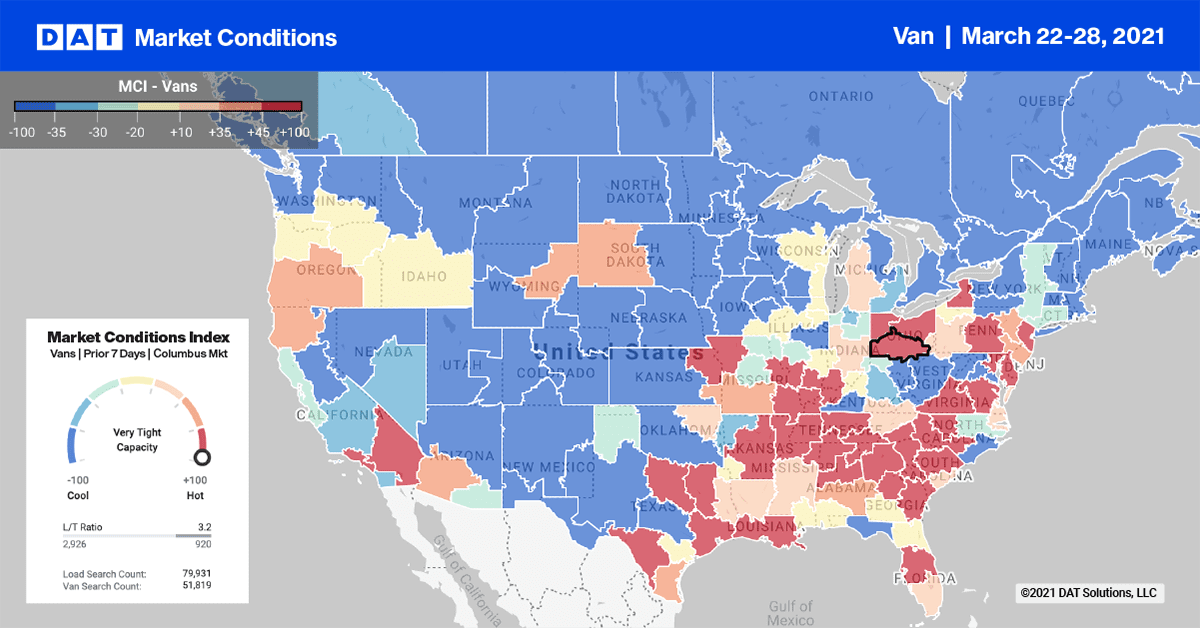 Houston and Dallas volumes increased by 9% and 16% respectively, driving up spot rates by $0.04/mile in both markets. Houston loads averaged $2.05/mile and in Dallas outbound loads were paying slightly less at $1.97/mile.
On the West Coast, Los Angeles and Ontario, CA, made it back into the top ten, as import volumes continue to hit record levels. After dropping for most of March, outbound load posts jumped 18% in Los Angeles and 7% in Ontario. Capacity eased in Los Angeles, with rates dropping $0.01/mile to an average of $2.81/mile. In Ontario, capacity tightened, pushing up rates $0.02/mile to $2.90/mile.
Spot rates forecast
The national average van rate moved up again last week, increasing $0.04/mile to end the week at $2.36/mile, excluding fuel. Spot rates remain up 28% year over year, or $0.66/mile compared to the same week in 2020.
How to interpret the rate forecast:
Ratecast:  DAT's core forecasting model
Short Term Scenario: Formerly the pessimistic model that focuses on a more near-term historical dataset.
Blended Scenario: More heavily weighted towards the longer-term models.
Blended Scenario v2:  More heavily weighted towards the shorter-term models.