The addition of 15 ship-to-shore cranes that now stand 155 feet above the wharf deck allows the Port of Charleston to work the East Coast's biggest ships. The fifteenth and final crane was recently moved into position along the waterfront. With five cranes to a berth, the Wando Welch Terminal is now even more capable of efficiently working three 14,000-TEU vessels simultaneously. On top of the ongoing harbor dredging program, which will eventually make Charleston the deepest port on the East Coast at 52 feet, truckload carriers can expect more freight volume in the next year. The cranes are a key part of SC Ports' $500 million investment multi-year project to increase capacity and operations with new container-handling equipment, a modernized container yard, and refrigerated cargo yard, improved traffic patterns, and IT systems, a strengthened wharf, and an on-terminal transload facility for mega-retailers. 
In April last year, the port opened a new 1,400-foot berth at the Leatherman Terminal, allowing much larger container vessels in the 20,000- TEU category to add Charleston as a destination for imports. According to SC Ports President and CEO Barbara Melvin, "It is truly remarkable to see the final crane of our new fleet moved into place on the Wando Welch Terminal wharf. This is the culmination of years of effort, planning, and coordination by our team and project partners. Our modern equipment provides smarter operations and more fluidity for the supply chain." 
All rates cited below exclude fuel surcharges unless otherwise noted.
Outbound load posts in Charleston continue to climb following last week's 2% w/w gain. In contrast, capacity continues to loosen in the spot market as rates drop to $2.23/mile, down $0.12/mile in the last month. In the heavily congested Port of Savannah, load posts increased by 17% last week, with capacity following the same trend as in Charleston following last week's $0.07/mile decrease to $1.90/mile. Spot market activity in Florida ramped up last week – load posts jumped by 28% w/w, but as has been the case in most East Coast markets, capacity was loose, with state average rates dropping for the fourth week in a row to $1.24/mile for outbound loads. 
Outbound truckload capacity tightened in California last week, reversing the prior three-week trend. State average linehaul rates increased by $0.02/mile to an average outbound rate of $2.18/mile last week. In Los Angeles, which accounted for most of last week's rate increase, load posts surged by 24% w/w to be up 27% m/m. On the Los Angeles to Phoenix lane, the load volume increased by 6% last week, although brokers and shippers found sufficient capacity with rates flat at $3.33/mile. On the Los Angeles to Chicago lane, spot rates continue to climb at $1.82/mile, now $0.11.mile higher than the July average outbound rate.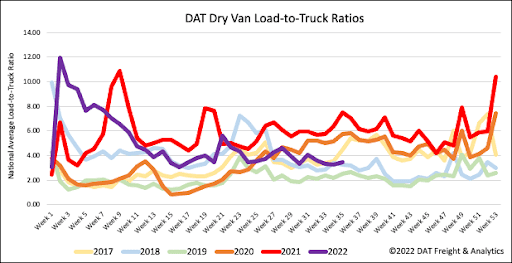 As expected during the last full shipping week before the end of August, load posts increased by 4% w/w last week. Unexpectedly, fewer dry van carriers took time off during Brake Safety Week following last week's 1% decrease in equipment posts. As a result of higher load posts and slightly fewer equipment posts last week, the dry van load-to-truck (LTR) increased by 5% w/w to 3.45. 
Dry van linehaul rates have decreased by $0.86/mile since the start of the year, following another $0.02/mile decrease last week. The national average dry van linehaul rate ended last week at $1.92/mile, which is $0.52/mile lower y/y and $0.07/mile higher than in 2018. Dry van linehaul rates are still $0.30/mile higher than the average of pre-pandemic years.