The flatbed market has been flat for most of 2023, with very little good news on the horizon. Still, Daseke, Inc., the largest flatbed carrier nationwide, delivered excellent results in the third quarter against some challenging headwinds. Jonathan Shepko,  Chief Executive Officer of Daseke, said, "Adjusted for fuel and equipment gain on sale, the company was, in fact, able to deliver adjusted EBITDA margins and operating ratios virtually identical to those posted in the third quarter of our record-setting 2022 financials." 
Daseke's financial highlights include revenue of $402 million, down 13.1% y/y and modestly 1% and 2% compared to the second and first quarters of 2023, respectively, due primarily to a $0.02 rate per-mile decline. Adjusted operating ratio of 93%, compared to 95% and 92%, over the same timeframes.
Like many carriers and industry experts, Daseke does not expect it will benefit from a recovery until 2024 as the market rebalances. Shepko offered some interesting thoughts on what 2024 has in store for other flatbed carriers looking down the road. "With nine months of the year behind us, our forecast for the remaining months anticipates many of the thematic pressures on financial performance to persist: inflationary headwinds including fuel, an oversupplied used equipment market, a restless owner-operator and lease purchase driver pool, and typical seasonal rate softening in an already challenged environment. We believe in the adage, 'the cure for low prices is low prices,' and this cycle will eventually correct in a meaningful way, even without an external catalyst.
Get the clearest, most accurate view of the truckload marketplace with data from DAT iQ.
Tune into DAT iQ Live, live on YouTube or LinkedIn, 10am ET every Tuesday.
Market Watch
All rates cited below exclude fuel surcharges unless otherwise noted.
After dropping for the last couple of weeks, load post (LP) volume increased slightly last week in Houston, although spot rates remain flat at $2.03/mile. At that level, linehaul rates are $0.36/mile lower than last year and almost identical to 2018. On the high-volume flatbed lane to Lubbock, Texas, in the Permian Basin oilfield, spot rates dropped $0.02/mile last week to $2.30/mile on a 5% lower volume of moving loads.
In Gary, Indiana, the nation's largest steel-producing market, rates decreased by $0.02/mile to $2.30/mile on a 6% lower w/w volume of moving loads. Gary to Houston loads paid carriers $1.75/mile, around $0.20/mile higher than last year. Flatbed loads paid carriers $2.33/mile in neighboring Illinois last week, while in the Dakotas, Iowa, and Minnesota, carriers were in much higher demand last week, driving up outbound rates by $0.41/mile to an average of $2.65/mile.
Load-to-Truck Ratio (LTR)
The volume of flatbed load posts (LP) dropped for the third week following last week's 2% w/w decline. Flatbed spot market LP volumes are 43% lower than last year and 33% lower than in 2019. Carrier equipment posts (EP) decreased 6% w/w, resulting in last week's flatbed load-to-truck ratio (LTR) increasing to 5.18, the lowest LTR in seven years.
Spot rates
Flatbed linehaul rates continue to lose ground following last week's $0.01/mile w/w decrease. At $1.86/mile, flatbed linehaul rates are $0.18/mile lower than last year and only $0.04/mile higher than in 2019. Compared to the pre-pandemic average for Week 45, last week's national average was $0.07/mile lower and $0.31/mile lower than in 2018.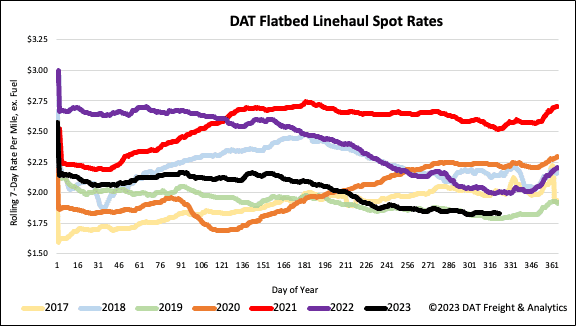 Weekly reports