Like so many other events, the pandemic threw a speed bump in our user conferences plans. But those plans weren't derailed: DATCON is back and better than ever. 
We couldn't bear the idea of returning without a bang, so we made sure DATCON22 is jam-packed with a healthy dose of actionable industry forecasts and insights, DAT product master classes, breakout sessions to dive deep into industry challenges, and myriad networking events.  
If that wasn't enticing enough, we've enlisted the help of our friends to make sure this year's DATCON doesn't disappoint. Terry Bradshaw, NFL Hall of Famer and Super Bowl champion, will be in attendance. 
As the cherry on top, we'll host you for a night of networking at Bouldin Acres, one of Austin's most popular hangouts. We'll even drive you to and from dinner so you can kick back and relax. 
Register and claim your spot at DATCON22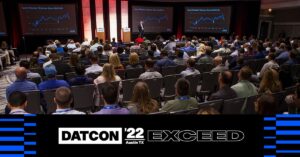 Clearly, you'll have a ton of fun, but it won't be without a big serving of actionable industry insights to take home. 
At DATCON22, industry experts will present information and lead discussions focused on industry trends and forecasts. Their knowledge, once it's paired with your experience at DATCON, will set you up to make savvy, informed decisions, leading you to greater profitability and success. Afterward, you'll head to breakout sessions, where you'll discuss and explore those same topics with like-minded data gurus and logistics veterans. 
DAT's own product experts will guide you through the nuances of the DAT products you already use, showing you powerful new ways to identify opportunities, analyze the market, and capitalize on new ways of understanding industry data. 
Logistics is marked by volatility. You're probably sick of hearing it, but the supply chain is complex. Most important things are. DATCON22 will provide you with the knowledge to navigate uncertainty, and the confidence to send it packing. 
DATCON22, where the industry solves for tomorrow, today. Click here to register. We can't wait to see you there.