Thanksgiving coincided with the end of the month, adding extra urgency to truckload reefer shipments. That boosted rates and pushed the national average reefer rate up to $2.18 for the month of November, 7¢ higher than October's average. 
Just as we saw with van freight last week, reefer load posts started the week strong and then dipped as it got closer to Thanksgiving. But unlike van posts, reefer posts actually picked up a bit on Friday. Thanksgiving is also far from the end of the holiday season, and we should see continued demand for reefer equipment until Christmas or even New Year's Eve.    
Looking for reefer loads? DAT load boards are the largest and most trusted digital marketplace for truckload freight.
Hot Market Maps, available in the DAT Power load board and DAT RateView, show load-to-truck ratios in 135 freight markets in the U.S.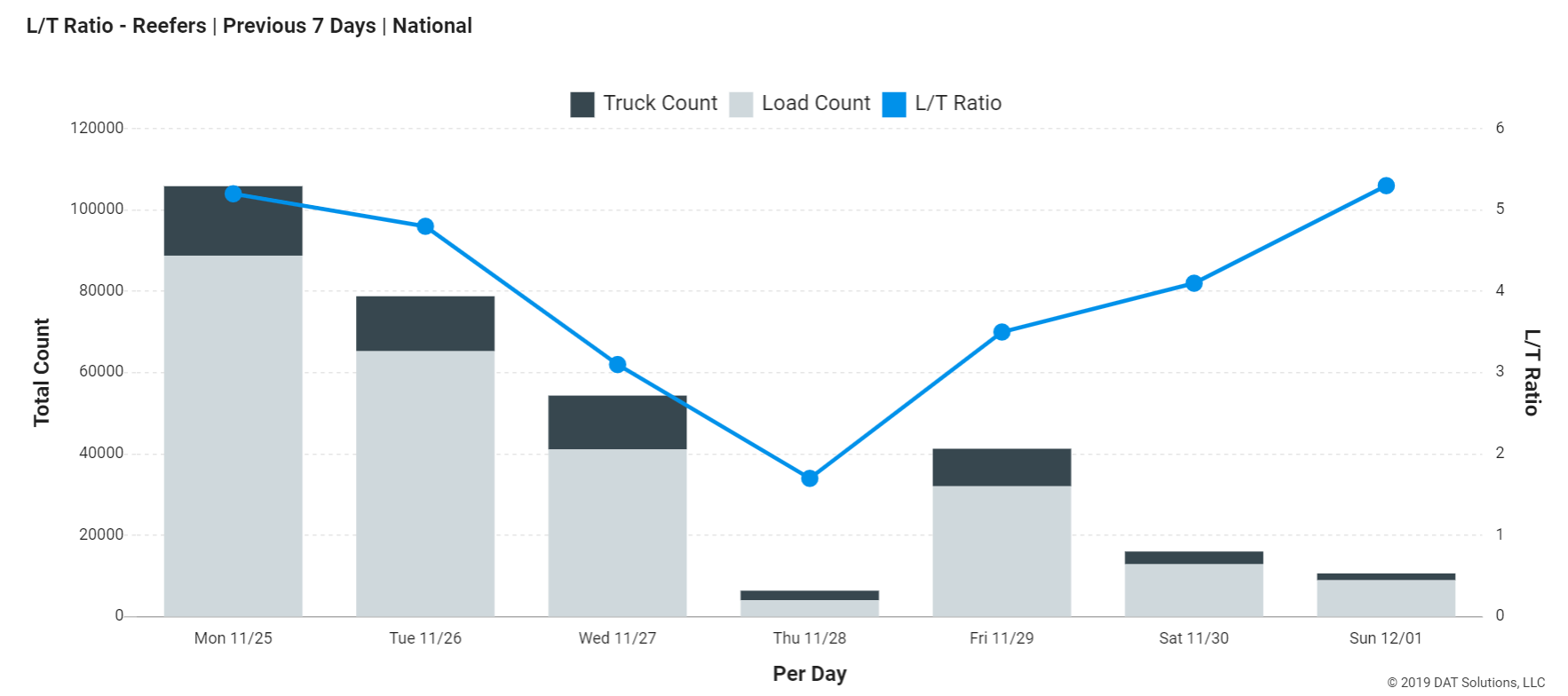 Reefer load posts peaked on Monday, dropped off by Thursday (Thanksgiving) and then got a bump on Friday. (Graph available in the DAT Power load board and DAT RateView.)
Rising markets and lanes
Rates increased in almost all of the major reefer markets. The largest increases were out of Tucson, AZ; Miami, Lakeland, FL; and Philadelphia.
Miami to Baltimore increased 17¢ to $1.76. That's not bad for the off-season. Southbound lane rate rose 11¢ to $2.39, but there were very few loads going south last week.
Twin Falls, ID, to Baltimore didn't have a lot of loads, but the ones that moved were paying $2.58/mile, up 19¢, for a 2,200-mile trip. Potatoes gotta move!
Tucson to Los Angeles added 17¢ to $2.03 due to an influx of imported produce at the Nogales, AZ, border crossing. The return trip from L.A. to Tucson got an 18¢ boost to $3.27/mile. This is a good roundtrip for reefer carriers, although rates may come down a bit this week before rising again in the run-up to Christmas.
Chicago to Kansas City rates jumped 21¢ to $2.66/mile, and the return trip added 12¢, to $2.39/mile. This looks like meat products — beef and pork, presumably — moving between packing and distribution locations.