What do you get when you combine produce season with International Roadcheck week? You guessed it: a jump in both rates and load-to-truck ratios.
As we saw with van freight, reefers got a big bump last week. Many drivers stayed home rather than face inspections, and those who stayed on the road were less productive if they were required to go through the comprehensive Level 1 inspection. The national average load-to-truck ratio for reefers increased 67% to 6.4 loads per truck, and rates were up on 47 of the top 72 reefer lanes. The national average reefer rate for June so far is $2.29/mi., 14¢ higher than the May average.   
DAT load boards are the largest and most trusted digital marketplace for truckload freight, with more than 256 million loads and trucks posted annually, plus rates based on $60 billion in real transactions.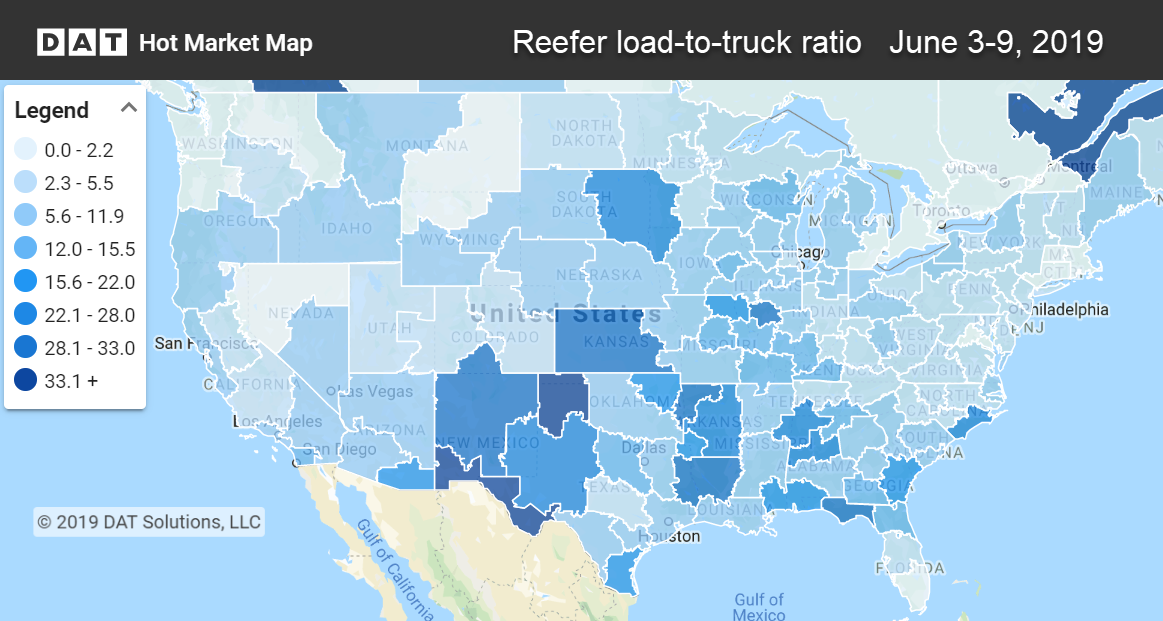 The national average load-to-truck ratio for reefers increased 67% last week to 6.4 loads per truck last week. Ratios in El Paso and Amarillo, TX were around 50 loads per truck.
Rising rates
Rates increased weren't limited to a single area of the country. Last week we saw jumps in the Midwest, Texas, and California. Freight volumes were up more than 20% coming out of Chicago, Green Bay and Elizabeth, NJ. Volumes in Los Angeles were up 15% and several lanes originating there had rate increases.  
Nogales, AZ to Brooklyn jumped 53¢ to $2.96/mi. 
Green Bay to Des Moines increased 44¢ to $3.25/mi.
Elizabeth, NJ to Boston rose 42¢ to $4.05/mi.
Los Angeles to Denver gained 38¢ to $3.18/mi.
Los Angeles to Portland added 34¢ to $3.26/mi.
Falling rates
Many of the falling lanes had one thing in common: They were coming out of Florida.
Miami to Baltimore sunk 41¢ to $2.06/mi.
Miami to Boston plunged 32¢ to $2.13/mi.
Lakeland to Atlanta was down 17¢ to $1.62/mi.
Outside of Florida, Atlanta to Philadelphia fell 32¢ to $2.55/mi
RELATED: Van rates rise during Roadcheck week
Find loads, trucks and lane-by-lane rate information in DAT load boards, including rates from DAT RateView.