It's still early in the spring, but the refrigerated truckload sector is not picking up any momentum yet. I wouldn't say spring was canceled, but it seems to have been delayed, partly due to flooding or continued rain in some regions. The lack of volume is hurting prices.
While the Lakeland, FL market was a big winner last week — gaining over 20% more volume — those gains were more than offset by a week-over-week slump in other major reefer markets, including Fresno, Nogales, Boise and much of the Midwest. The net result was that prices dropped 3¢ in March compared to the February average. We ended the month with an average reefer rate of $2.18/mile.
DAT load boards provide the largest and most trusted digital freight marketplace in the trucking industry, with more than 256 million loads and trucks posted annually, plus insights into current spot market and contract rates based on $60 billion in real transactions.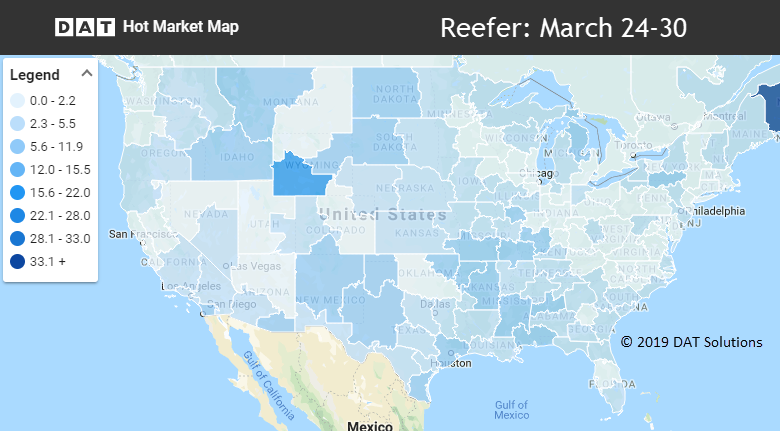 The national load-to-truck ratio for reefers was 2.6 loads per truck last week.
On the top 72 reefer lanes last week, rates were up on 24 lanes, down on 42 lanes, and 6 were neutral.
Volumes dropped significantly lower out of Miami, Twin Falls, Chicago, and Green Bay, which offset gains from Los Angeles, Sacramento, and Elizabeth, NJ. The Lakeland, FL market had an impressive increase in freight, but Fresno and Nogales both dipped lower and canceled Florida's gains. Lack of freight volume is hurting spot market reefer prices. We're looking to California for relief, maybe as soon as this week or next.
Rising Rates
Here are a few of the notable lanes where prices increased last week:
Elizabeth to Boston bumped up 15¢ to $3.88/mi.
Atlanta to Philadelphia gained 13¢ to hit $2.61/mi.
Green Bay to Minneapolis warmed up 15¢ to $2.57/mi.
Falling Rates
In the Southwest, the lane from Nogales to Dallas lost strength, but the rest of the really big price drops were on lanes originating in the Midwest:
Nogales to Dallas lost fell 15¢ to $2.41/mi.
Grand Rapids to Cleveland was down 31¢ to $3.83/mi.
Grand Rapids to Atlanta dropped 22¢ to $2.51/mi.
Chicago to Kansas City slid 19¢ to $2.08/mi.
Find loads, trucks and lane-by-lane rate information in DAT load boards, including rates from DAT RateView.