In the early stages of the pandemic, steelmakers closed or idled around one-third of their plants as customers canceled orders during the spring. Now they're struggling to keep up with demand from U.S. manufacturers.
The manufacturing sector continues to improve, which is good news, especially for flatbed carriers. According to the American Iron and Steel Institute, steel production remains down 13% y/y, but most manufacturers see demand continuing to strengthen heading into 2021.
Find flatbed loads and trucks on the largest on-demand freight marketplace in North America.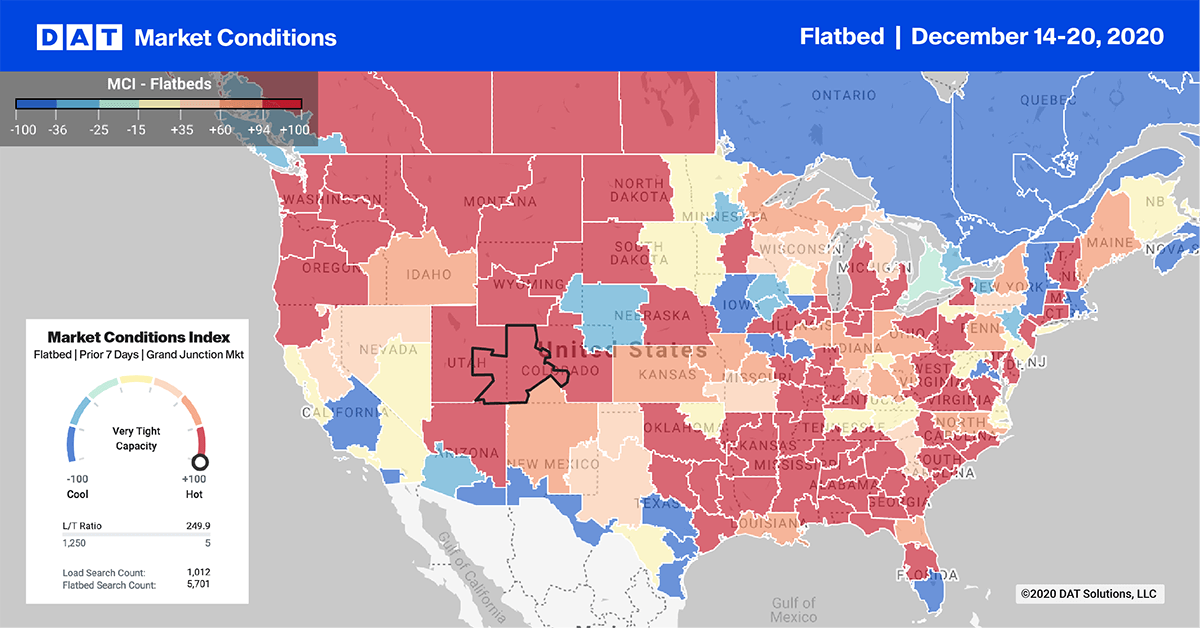 Market Conditions Index (MCI)
Top 10 Market Watch
The Flatbed market showed more late season life last week with outbound load post volumes increasing by 13% w/w in the top 10 markets, though available capacity tightened slightly, increasing spot rates by $0.12/mile on average.
Memphis regained the number one market position last week following a 4% w/w increase in load posts, but with tighter capacity, rates went up $0.02/mile to $2.84/mile.
In the Southwest region, volumes were up 16% w/w in Alabama—the number one Flatbed state.
Rate movement was mixed, with Montgomery (#2) up $0.19/mile to $2.86/mile, but the opposite in nearby Decatur (#4) where rates dropped by the same amount to $3.01/mile.
Spot Rates
Record level load post volumes for this time of the year pushed flatbed spot rates up by $0.03/mile to $2.21/mile (excl. FSC) last week. Rates are currently $0.37/mile higher, compared to the same week in 2019 when Flatbed rates were $1.84/mile.