Carriers have been waiting for good news for awhile now, and spot market rates finally started picking up steam last week. The Memorial Day holiday made for a shortened work week, which made for a tighter window for moving shipments before the end of the month. That pushed load-to-truck ratios higher, meaning shippers and brokers had a harder time finding available trucks.
That helped push rates higher on 73 of the top 100 lanes. It's been been quite a while since that many van lanes were up, and were finally starting to see some darker reds on the Hot Market Map.
DAT load boards provide the largest and most trusted digital freight marketplace in the trucking industry.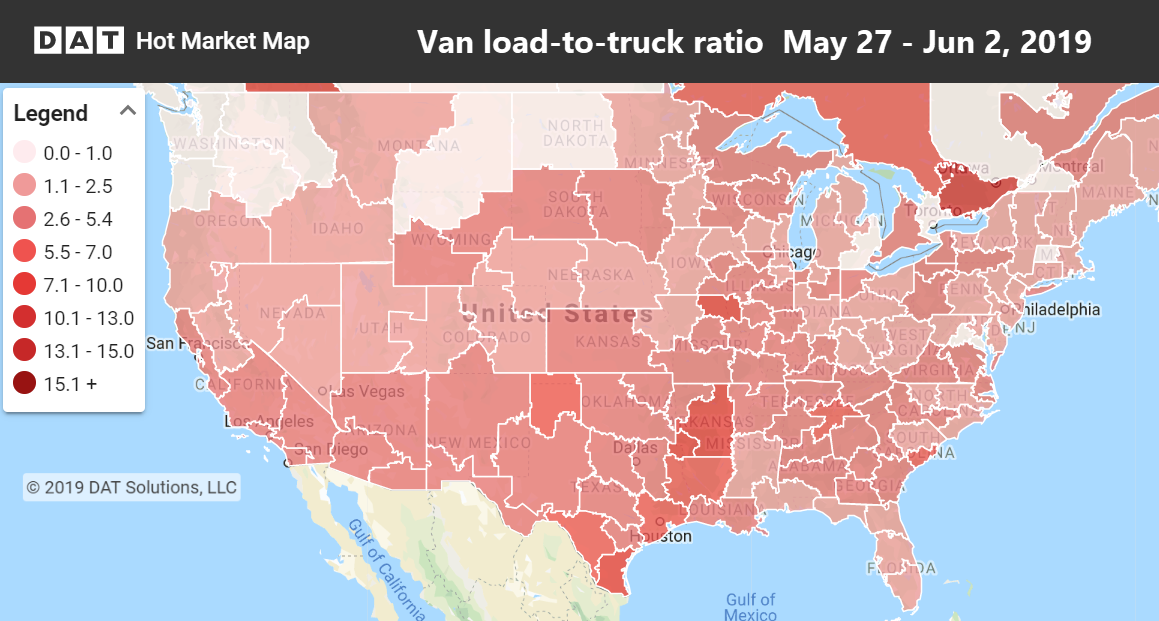 The national average load-to-truck ratio rose to 2.6 van loads per truck last week. Markets with ratios above 5.5 included McAllen, Laredo, and Amarillo, TX and Little Rock, AR.
Rising Rates
The Northeast seemed to be the big winner last week, with double-digit rate increases coming out of Buffalo, Allentown and Philadelphia. The Southeast was also strong, with single-digit increases from Atlanta, Charlotte and Memphis. The market with the most freight last week was Los Angeles, followed by Dallas and Atlanta.
Philadelphia to Boston surged 30¢ to $3.33/mi.
Charlotte to Allentown gained 18¢ to $2.53/mi.
Columbus to Buffalo added 15¢ to $2.72/mi.
Chicago to Allentown increased 15¢ to $2.36/mi.
Falling Rates
Major markets with falling rates were all in the West. Rates were lower coming out of Seattle, Los Angeles and Stockton, CA. Several lanes heading out of Denver were also down. 
Denver to Oklahoma City dropped 17¢ to $1.08/mi.  
Denver to Stockton fell 10¢ to $1.11/mi.
Los Angeles to Chicago declined 8¢ to $1.28/mi.
Seattle to Eugene, OR dipped 7¢ to $2.24/mi.
Find loads, trucks and lane-by-lane rate information in DAT load boards, including rates from DAT RateView.