Last week, two of the seven Class I Railroads announced extreme winter weather and sub-zero temperatures were impacting rail operations. From a truckload perspective, around 48% of all railcars are classified as intermodal, which includes 20', 40' and 53' containers that move on both rail and truck.
Intermodal competes heavily with truckload on the longer lengths of haul, especially off the West Coast where Union Pacific is the dominant railroad. Last Tuesday they announced a system-wide 72-hour shutdown, closing most of its intermodal network because of snow and icy conditions in the Pacific Northwest, Midwest and as far south as Texas.
For truckload carriers in freight markets served by UP on the West Coast, including Los Angeles, Ontario, Seattle, San Francisco, and Stockton, outbound load post volumes were up a combined 31% week over week after decreasing the three weeks prior. Spots rates were up $0.07/mile w/w on average in the same markets.
Find dry van loads and trucks on North America's largest on-demand freight marketplace.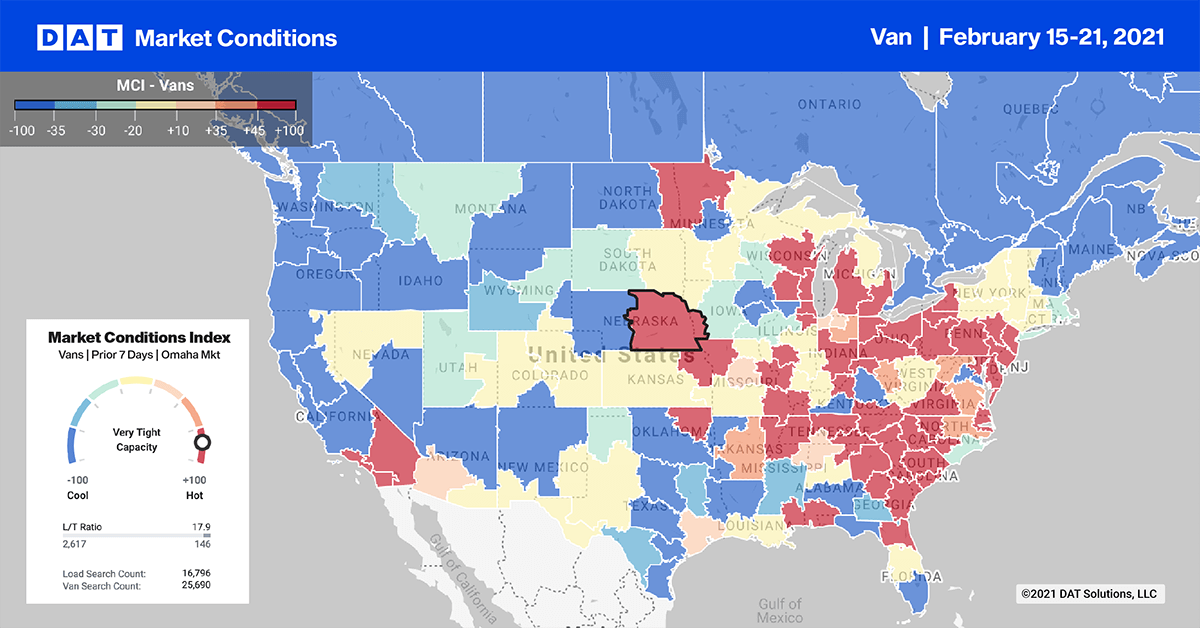 Dry van load post volumes increased by 26% w/w in the top 10 markets, as shippers struggled to move freight ahead of last week's winter storms. Capacity tightened, pushing up spots rates by $0.16/mile on average.
In the hardest hit Dallas market, inbound volumes increased 54% w/w, while outbound load post volumes dropped 6% w/w. The same story played out in markets impacted by the freezing cold. Outbound volumes plummeted as the week dragged on and inbound volumes from less-affected markets skyrocketed.
The extreme swings in weather last week had almost as much impact on spot rate movement in one week as we saw during the entire 3-month Polar Vortex event in 2014. Dry van spot rates increased by 8% w/w or $0.19/mile to $2.24/mile, excluding fuel – $0.71/mile higher than the same week in 2020.