Around this time of the year, the production of leafy greens moves from major growing regions to California's Coachella and Imperial valleys and into Arizona – from Salinas, California, to Yuma, Arizona.  This southernmost part of California and Arizona transforms into the "Winter Salad Bowl," where an estimated 90% of lettuce demand is met between November and March each year. The Imperial Valley grows over 65 commodities, with head and leaf lettuces, broccoli, spinach, and carrots among its top crops. Similarly,  everything from cabbage to carrots to cauliflower is grown in the Coachella Valley.
Tina Caputo from The Packer reports, "Ocean Mist Farms in Castroville, California, grows a small percentage of its winter crops in Yuma, as well as Salinas Valley and Oxnard, yet the company reserves Coachella Valley as its primary winter growing region due to its abundant resources and ideal winter climate. The company's winter crops grown in Southern California include artichokes, broccoli, Brussels sprouts, cabbage, cauliflower, celery, fennel, lettuces, and spinach."
Joe Angelo, director of sales at Ocean Mist Farms, said, "The weather has been fairly temperate in our southern growing regions this year, so cold weather hasn't been an issue. As part of a seasonal monsoon pattern in early September, the big rains thankfully did not create any major disruption for us. It was early enough in the season and mild enough in its aftermath that we recovered quickly. We don't expect any major disruptions as a result."
Get the clearest, most accurate view of the truckload marketplace with data from DAT iQ.
Tune into DAT iQ Live, live on YouTube or LinkedIn, 10am ET every Tuesday.

Market watch
All rates cited below exclude fuel surcharges unless otherwise noted.
Christmas tree shipping season in the PNW, the largest producing region nationally, has increased reefer demand this season, pushing linehaul rates to $2.47/mile last week. At that level, outbound spot rates were up $0.16/mile w/w and $0.40/mile month-over-month (m/m), the third highest in eight years. The volume of moved loads increased 6% last week and is around 10% higher than last year. Spokane to Los Angeles loads paid carriers an average of $2.42/mile following last week's $0.13/mile increase, while Pendleton, OR, loads averaged $2.48/mile, up $0.18/mile w/w. 
California outbound linehaul rates averaged $2.28/mile last week, up $0.03/mile and $0.12/mile higher than last year. In Fresno, linehaul rates average $2.28/mile, up $0.03/mile on 13% higher volume last week, while on the high-volume lane north to Seattle, loads paid $2.15/mile, down $0.06/mile w/w as carriers worked to position assets in the PNW to take advantage of higher paying outbound loads. In North Carolina, the nation's second-largest producer of Christmas trees and fresh turkeys, outbound reefer rates averaged $2.00/mile last week, up $0.14/mile on 12% higher w/w moved load volume.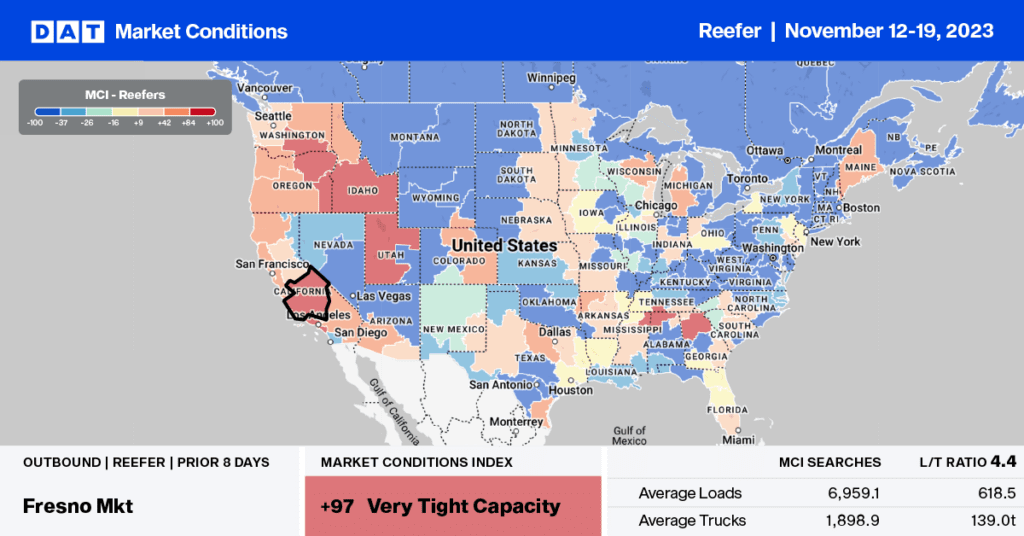 Load-to-Truck Ratio (LTR)
Reefer load post (LP) volume increased by 5% w/w, boosted by Christmas trees and food shipments ahead of Thanksgiving. Nonetheless, reefer LP spot market volume is around 37% lower than last year and 45% lower than the pre-pandemic average for Week 46. Carrier equipment posts (EP) were down 2% w/w, resulting in last week's reefer load-to-truck ratio (LTR) increasing slightly to 3.40 –  still the lowest reefer LTR in seven years.   
Spot rates
Reefer spot rates increased by $0.02/mile last week, and at $1.97/mile, reefer linehaul rates have increased by $0.07/mile in the last month. Compared to last year, reefer linehaul spot market rates are $0.14/mile lower and around $0.07/mile higher than in 2019. 
Weekly reports