Just as we saw with van freight, rates were mostly down in the reefer markets in the second week of July, as there was less urgency to move goods in the week following the Fourth of July holiday. Unlike van freight however, reefer volumes were slow to resume. The exception was in the East, where rates held up better than in most areas.
On the top 72 reefer lanes last week, rates were down in 55 lanes.
DAT load boards are the largest and most trusted digital marketplace for truckload freight, with more than 256 million loads and trucks posted annually.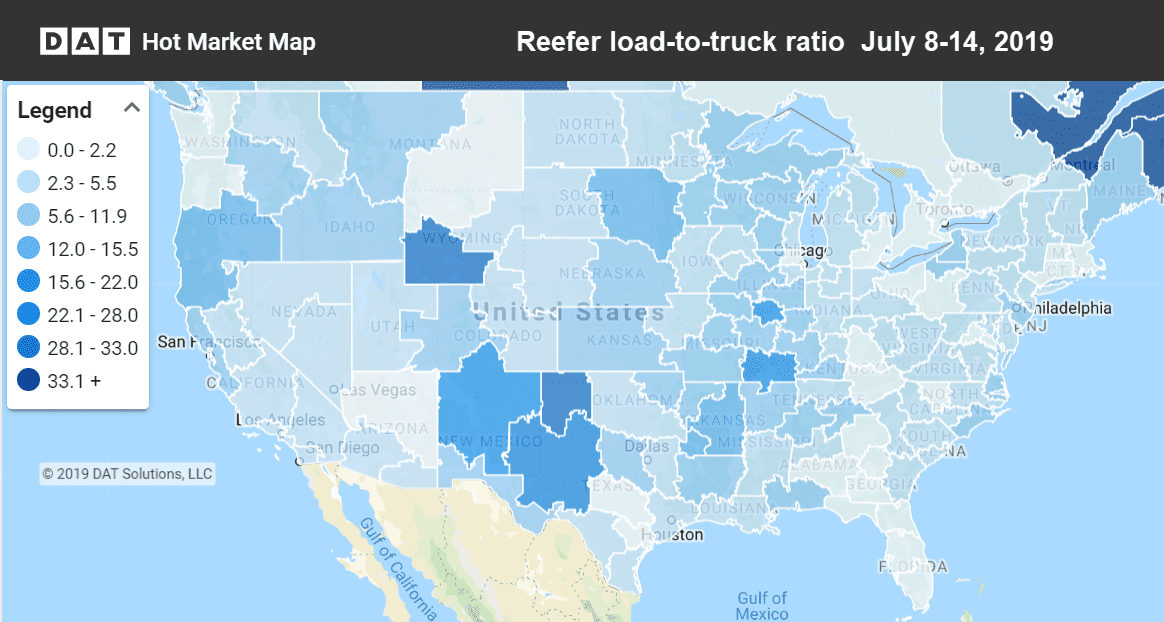 Shown above are the freight markets where trucks were hardest to find last week. Darker shades indicate that there were more load posts compared to truck posts. Hot Market Maps are available in DAT Power and DAT RateView.  
Rising rates
While rates were down in most of the major reefer markets, prices actually climbed coming out of Elizabeth, NJ. There were also small rate increases from the Philadelphia and Denver markets.   
Philadelphia to Miami jumped 26¢ to $1.79/mi.
Elizabeth to Atlanta rose 17¢ to $1.61/mi.
Elizabeth to Lakeland, FL, added 12¢ to $1.70/mi.
Falling rates
Rates are falling in some of the southernmost markets, including South Texas, Southern Arizona, and Southern California. In the Midwest, two lanes that were up big the previous week fell back to earth: 
Grand Rapids, MI, to Cleveland plunged 72¢ to $3.15/mi.
Green Bay to Minneapolis dropped 47¢ to $2.36/mi.
Local sourcing of produce in the Pacific Northwest may have contributed to these rate cuts headed north from California:
Sacramento to Portland fell 39¢ to $3.34/mi.
Fresno to Seattle was down 33¢ to $3.04/mi.
Fresno to Denver was also down 33¢ to $2.69/mi.
RELATED: Van rates fall after 4th of July
Find loads, trucks and lane-by-lane rate information in DAT load boards, including rates from DAT RateView.