Produce season is in full swing across the country, as more regions enter their peak harvest season in August. One area that is starting to see an increase in outbound spot rates is in Michigan. 
Michigan's geography brings weather ideal for producing fresh fruits and vegetables and has a diverse selection. According to USDA data, Michigan ranks 13th in refrigerated volume for produce from the U.S. over the last five years. USDA data also shows that Michigan ranks in the top 10 domestic producers of apples, cabbage, celery, corn, bell peppers, potatoes, tomatoes, and watermelons.
Ben B. Schwartz & Sons Inc. Bill Loupée, Schwartz's chief operating officer, says Michigan fresh produce items are "very important. We see increasing strength in demand for local Michigan products as soon as it's in season." Loupée said Schwartz's distribution reach "has gotten significantly larger over the past seven to eight years. We deliver as far south as Atlanta/Houston, as far east as New Hampshire/Virginia, and as far west as Iowa/Wisconsin. We've also become a supplier of significant volume into the Ontario market and have become experts in cross-border operations. Of course, Detroit is still our home, but our delivery radius is well beyond that."
According to field reports, this year's harvest should produce good yields; however, the increased production costs are a real challenge. David Cook handles logistics and sales for Rice Lake Farms Packing LLC, in Grant, MI,and said, "Transportation continues to be a real issue in the produce industry. Trucks are available now, but pricing has risen 40% over last year, in part because of a doubling of the price of diesel." Hudsonville, MI.-based Superior Sales President Randy Vande Guchte said, "Everything is up, and growers can't simply raise their prices. "It's a free market situation, so the market finds itself. Growers tell me that, for input costs for things like fertilizer, fuel, packaging, and labor, they're seeing a 15% to 20% increase to produce and pack the same items they did last year. So far this year, trucks have been easier to find, and they cost a little bit less than last year. However, I fully expect prices to jump back up as we approach Labor Day," Vande Guchte said.
All rates cited below exclude fuel surcharges unless otherwise noted.
While we're in Michigan, loads 320 miles away to Chicago from the Bay City area are averaging $2.85/mile or around $0.15/mile lower y/y. Loads from the Bay City/Saginaw region to Hunts Point in Brooklyn, NY, are averaging $3.50/mile this week – around $0.32 higher than the July average but still around $0.62/mile lower than mid-August rates last year.
In the Pacific Northwest, spot rates from Pendleton, OR, to Los Angeles are averaging $1.41/mile this week – up around $0.20/mile in the last few weeks and around $0.20/mile lower than the previous year. In Los Angeles, spot rates for loads east to Phoenix hit their lowest level in 12 months last week at $3.38/mile – that's almost $1.40/mile lower than August last year and $1.74/mile lower than November's peak last year. A similar trend was reported on the Los Angeles to Las Vegas haul, where spot rates hit a 12-month low of $4.68/mile, more than $1.00/mile lower y/y. Spot rates for loads from Fresno to Brooklyn, NY, continue to cool, down $0.13/mile below the July average at $1.99//mile last week. Last year, the same loads were paying $3.34/mile.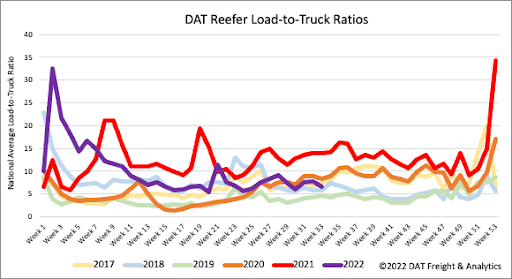 Reefer load posts cooled rapidly following last week's 12% w/w decline. Volumes are now 46% lower than the previous year and 11% lower than the same time in 2020. Carrier equipment posts increased 4% last week and are now 12% higher than the same week in 2019. As a result of lower load posts and more equipment posts, the reefer load-to-truck (LTR) ratio decreased slightly to 6.57.
There was very little change in the national average reefer linehaul spot rate last week. At $2.26/mile, spot rates have decreased almost $1.00/mile since the start of the year and, compared to the previous year, are $0.52/mile lower but still $0.35/mile higher than the pre-pandemic average for this time of the year.