The U.S. Bank Freight Payment Index showed growth in Q2 2022 as another indication that a freight recession isn't on the immediate horizon. The U.S. Bank Freight Payment Index is a quarterly publication representing freight shipping volumes and spend at national and regional levels. According to the report, the national truck shipment index grew 2.3% during the second quarter of 2022 after falling roughly the same percentage each of the two previous quarters; y/y, the shipments index has declined just 0.9%. In addition, the number of shipments increased slightly above the historical average as contract freight outperformed the traditional spot market. 
At a regional level, the q/q shipment growth was strong in the Northeast region, up 7.3%, the Midwest region, up 6.8%, and the Southwest region, up 2.2%. While the Southeast region had a 4.3% decline and the West region was down slightly at 0.7%. Higher manufacturing output in the Northeast and Midwest regions is likely driving the increased volumes. In the Southwest region, an increased truck transported trade with Mexico through the Texas crossings increased by double-digits y/y. In the West region, port activity was still high; however, the volume overall did slow in Q2. In the Southeast region, some factors for the decline included poor retail sales and increased service-related activity due to the strong tourism market.
All rates cited below exclude fuel surcharges unless otherwise noted.
According to the USDA, national weekly truckload volumes are down close to 10% compared to the previous two years for the end of July. Produce imports from Mexico are well past their April/May peak and are running just 3% lower y/y while volumes from Canada are up 5% y/y. There was a shortage of trucks reported in Southwest Indiana in the Evansville, IN market for loads of watermelons and cantaloupes last week – reefer spot rates increased by $0.04/mile to an average of $2.91/mile. Loads from Evansville to Orlando, FL at $2.99/mile increased by almost $0.50/mile in the last four weeks.
On the West Coast in Fresno, reefer linehual rates continue to cool following last week's $0.04/mile decrease to $2.33/mile while in the smaller San Diego market dominated by reefer imports from South America, reefer rates increased by $0.03/mile to an average of $2.84/mile. Following a week of trucker protests in Oakland, CA, outlound load post volumes increased by 7% w/w although capacity continues to loosen with spot rates down for the fourth week in a row to $2.28/mile.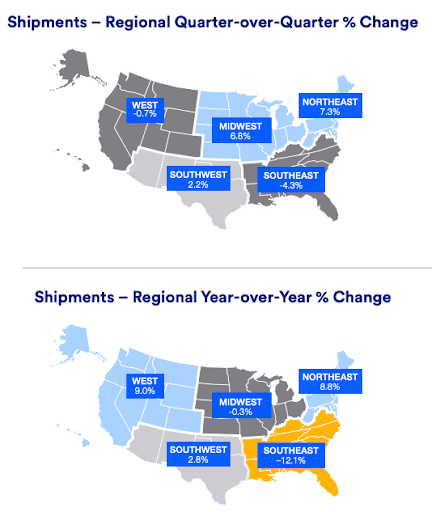 Capacity tightened in Jacksonville, FL, last week following a $0.20/mile jump in linehaul rates to $2.30/mile after load post volumes increased by 8% following a month of decreasing volumes. Reefer capacity was also tight in Miami with rates up $0.07/mile to $1.29/mile. In Pittsburgh, reefer capacity was extremely tight last week following a 22% w/w increase in load post volumes resulting in rates jumping by almost $0.70/mile to $3.76/mile. Loads south to Orlando were up also increasing by the same amount averaging $2.44/mile last week or almost exactly where they were the previous year.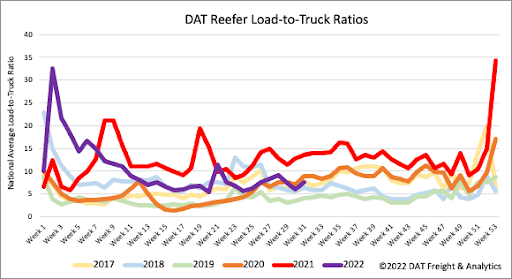 Load post volumes increased last week by 17% to be just 5% below 2020 levels for the end of July. Volumes are still 37% lower than this time last year and 9% lower in the previous month. It was no surprise that reefer demand increased during last week's heat wave across the U.S., resulting in 6% fewer carriers posting their equipment for loads than the previous week. As a result of higher load post volumes and fewer equipment posts, the reefer load-to-truck (LTR) ratio increased 25% w/w to 7.48.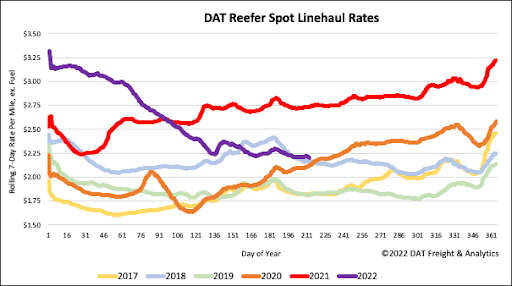 Compared to the previous week, last week's reefer linehaul rate increased by just over a penny per mile to a national average of $2.38/mile. Reefer spot rates are currently $0.54/mile lower than the previous year and $0.03/mile higher than where reefer spot rates were in 2018, but $0.32/mile higher than the pre-pandemic average for this time of the year.