The combination of pent-up demand, high levels of personal savings and consumers wanting to shop retail for the upcoming holiday season points to even more supply chain disruptions. This comes when retailers continue to struggle to meet consumer demand. 
Christmas is only 95 days away. And with the world's factories and ports in Asia continuing to see intermittent shutdowns, the backlog of massive container ships waiting to unload continues to grow. 
Find loads and trucks on the largest load board network in North America.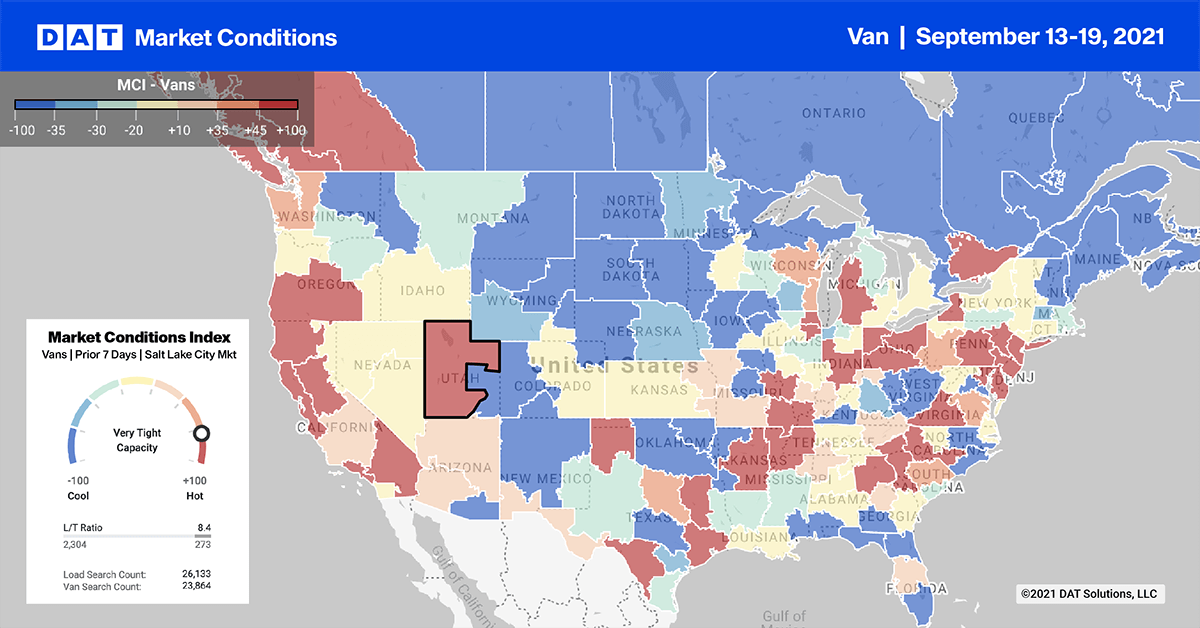 Note: All rates exclude fuel unless otherwise noted.
There were 65 ships waiting outside California ports to unload containers earlier this week following a week of new records being set for vessels in port, at anchor and in drift areas. With ports already at full capacity and the chassis shortage only getting worse, industry analysts predict the current situation won't ease for another six months. 
According to Lars Jensen, CEO of Vespucci Maritime and Journal of Commerce (JOC) analyst: 
"More than 400,000 TEU are just sitting there [off Southern California]. Unprecedented import volumes for 14 consecutive months are causing the vessel bunching, while bottlenecks at warehouses and inland rail hubs are also contributing to port congestion."
Jensen also notes that North America will not begin to experience relief from this "fantastic peak" until late in the first quarter of 2022. This week, production in Asia is expected to slow down when factories close for the annual Lunar New Year celebrations. It will be at least six months before there is a glimmer of hope that things will be back to normal." 
For truckload carriers in port markets, this means higher freight volumes tied closely to the ebbs and flows on container import levels. 
Following the port shutdown in Philadelphia just after Labor Day in an effort to clear a backlog of shipping containers, truckload volumes were up 8% last week with capacity continuing to tighten. 
Dry van spot rates increased by $0.04/mile last week to an average outbound rate of $2.59/mile. That makes four weeks of increases for the Philadelphia market. Load volume from Philly to Chicago jumped 31% last week with capacity flat holding around the $2.00/mile mark. 
On the West Coast, new records are being broken daily as peak-shipping season from Asia hits top gear. As of earlier this week, there were 65 large container vessels waiting an average 8.7 days to find a berth to unload. And when containers are unloaded, they're finding their way to the truckload market in greater numbers as shippers deal with heavy intermodal congestion at inland ports. 
Truckload volumes in Los Angeles surged by 41% last week with e-commerce volumes dominant on the following lanes:
Stockton, CA +35%

Atlanta +22% 

Dallas +24%

Chicago +23% 
Rates from Los Angeles to Stockton jumped $0.41/mile last week to an average of $4.32/mile for the 338-mile haul. That's a new 12-month high and $1.18/mile higher than this time last year.
Spot rates
Following the week prior's $0.05/mile increase right after Labor Day, dry van spots rates remained flat last week at $2.51/mile. Compared to the same week last year, dry van rates are still $0.35/mile higher. 
Of our Top 100 lanes (for loads moved), spot rates:
Increased on 21 lanes (compared to 40 the week prior)

Remained neutral on 35 lanes (compared to 31)

Decreased on 44 lanes (compared to 26)
How to interpret the rate forecast:
Ratecast: DAT's core forecasting model

Short Term Scenario: Formerly the pessimistic model that focuses on a more near-term historical dataset

Blended Scenario: More heavily weighted towards the longer-term models

Blended Scenario v2: More heavily weighted towards the shorter-term models