Just as we saw with van freight, flooding in the Houston area following Tropical Storm Imelda disrupted freight patterns across the the reefer supply chain. Freight volumes were down more than 30% coming out of the McAllen, TX market near the Mexico border. Meanwhile fall harvests continue across the U.S. and freight volumes and rates increased in several Midwest markets.
On a national level, reefer rates have remained fairly tame this fall. Prices are up 3¢ compared to August, but are 2¢ lower than July. Last week told a similar story of equilibrium: on the top 72 reefer lanes, prices rose on 34 lanes and fell on 32, while 6 were unchanged, compared to the previous week.
Looking for reefer loads? DAT load boards are the largest and most trusted digital marketplace for truckload freight.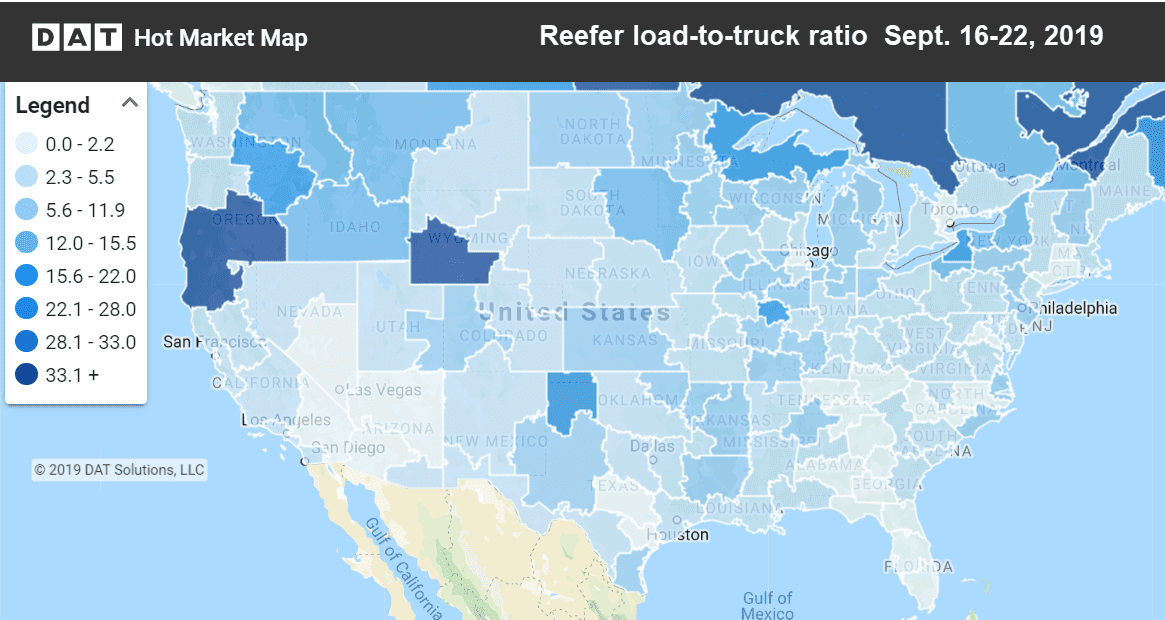 Last week reefer demand was strongest in northern states and the Midwest, as seen in this Hot Market Map, which is available in the DAT Power load board and DAT RateView.
Rising markets and lanes
Houston's issues with flooding have boosted rates from Denver more than 5%. Rates were also up in Chicago and Grand Rapids, MI.
Grand Rapids to Madison, WI rose 26¢ to $2.88/mi. (A nice rate on a headhaul lane to a headhaul state)
Atlanta to Philadelphia recovered 19¢ to $2.44/mi.
Falling markets and lanes
In addition to McAllen, TX's sharp drop in reefer rates and volumes last week, Lakeland, FL and Atlanta also experienced fewer loads and falling prices.
Nogales, AZ to Los Angeles tumbled 34¢ to $1.81/mi. on lower volumes
Sacramento to Portland moved off peak, falling 23¢ to $2.86/mi. as the Pacific Northwest is shipping its own produce