Few issues get truckers more worked up than the lack of available truck parking. But this year there's actually some good news to report.
Eight Midwestern states launched the Truck Parking Information Management System (TPIMS), a coordinated effort by state DOTs that helps truckers locate safe, legal parking spaces at both public rest stops and private truck stops. Other states have their own initiatives to help truckers find parking.
DAT Trucker offers parking information for nearby rest stops and truck stops. Download it for Apple or Android.
Grant funds 8-state parking project
TPIMS operates on interstate highways in Indiana, Iowa, Kansas, Kentucky, Michigan, Minnesota, Ohio and Wisconsin. Open parking spots are identified through in-ground sensors or cameras and that information is relayed to roadway signs, smartphone apps, in-cab navigation systems, and 511 travel websites.
The TPIMS was funded by a $25 million grant from the Federal Highway Administration. State DOTs added another $6 million to fund the project.
"The great thing about this project is that the parking data is in real time," said John Maddox, program director for the Kansas Department of Transportation, which administered the project. "Drivers can see how many spaces are available at two or three downstream locations and gauge how much time they have left to drive."
Maddox said that he hopes other states will adopt similar systems that will all talk to each other.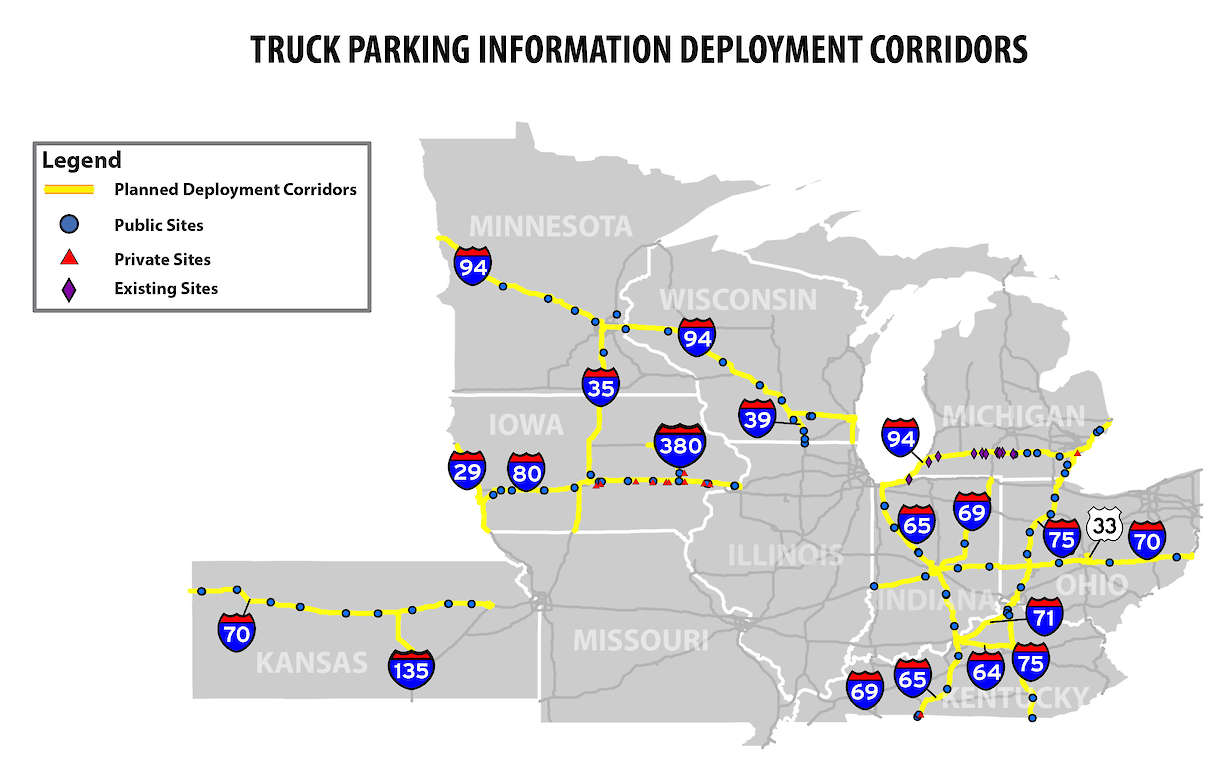 TheTruck Parking Information Management System operates on the major freight corridors in eight midwestern states. Map courtesy TPIMS.
Parking solutions in other states
In addition to efforts in the Midwest, other states have developed their own truck parking initiatives:
Download the DAT Trucker app to find nearby rest areas, truck stops, hotels for truckers, truck repair services, and more.