Spot market van trends were a mixed bag last week. The large volume of freight we saw moving from the West Coast during the previous week resulted in higher volumes in the East last week, but several West Coast cities saw sharp volume declines.
Truckload capacity also tightened across much of the southern half of the country, but that was offset by the heavy competition for loads in the top half of the country, which you can see in the load-to-truck ratio below.
DAT load boards provide the largest and most trusted digital freight marketplace in the trucking industry.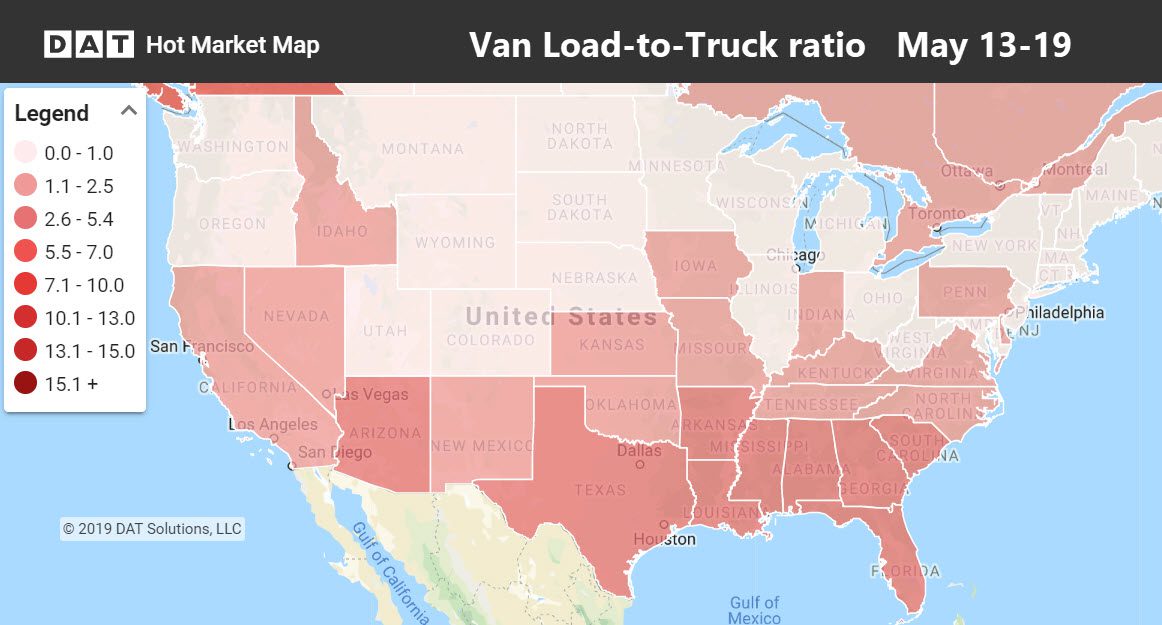 The load-to-truck ratio was highest in the southern band of states last week, meaning brokers and shippers had a harder time finding trucks there.
Rising Rates
Unlike most markets, Houston had an early week surge that produced a 7.9 load-to-truck ratio on Tuesday. That faded to 2.5 by Thursday but bounced back to 4.5 by Friday. Average rates out of Houston rose 4¢ for the week, which was better than most markets.
Houston to Oklahoma City bumped up 15¢ to $2.01/mi. on strong demand in this market 
Columbus to Buffalo added 13¢ to $2.74/mi. 
Atlanta to Philadelphia increased 11¢ to $2.34/mi., reflecting it's normal seasonal rise
Falling Rates
Despite rising freight volumes, rates dropped coming out of both Philadelphia and Buffalo. They're both known for final-mile freight and are home to regional distribution centers that serve the heavily-populated Northeast.
Philadelphia to Charlotte dropped 14¢ to $1.28/mi.  
Philadelphia to Buffalo moved down 12¢ to $2.02/mi.  
Philadelphia to Boston was down 11¢ to $3.02/mi.
RELATED: Good and bad news for reefer freight
Find loads, trucks and lane-by-lane rate information in DAT load boards, including rates from DAT RateView.