Last week halted the slide in reefer rates that we've been seeing since the Fourth of July. Improvements out of California played a major role in that, with higher load counts out of Fresno. The northern part of the state soaked up extra truckload capacity and kept trucks busy with longer hauls.
The potential remains that summer amd fall produce will stabilize pricing across the truckload spot market. The San Francisco market, containing the berry-producing areas around Salinas and Watsonville, has been a standout region this year for produce.
Looking for reefer loads? DAT load boards are the largest and most trusted digital marketplace for truckload freight.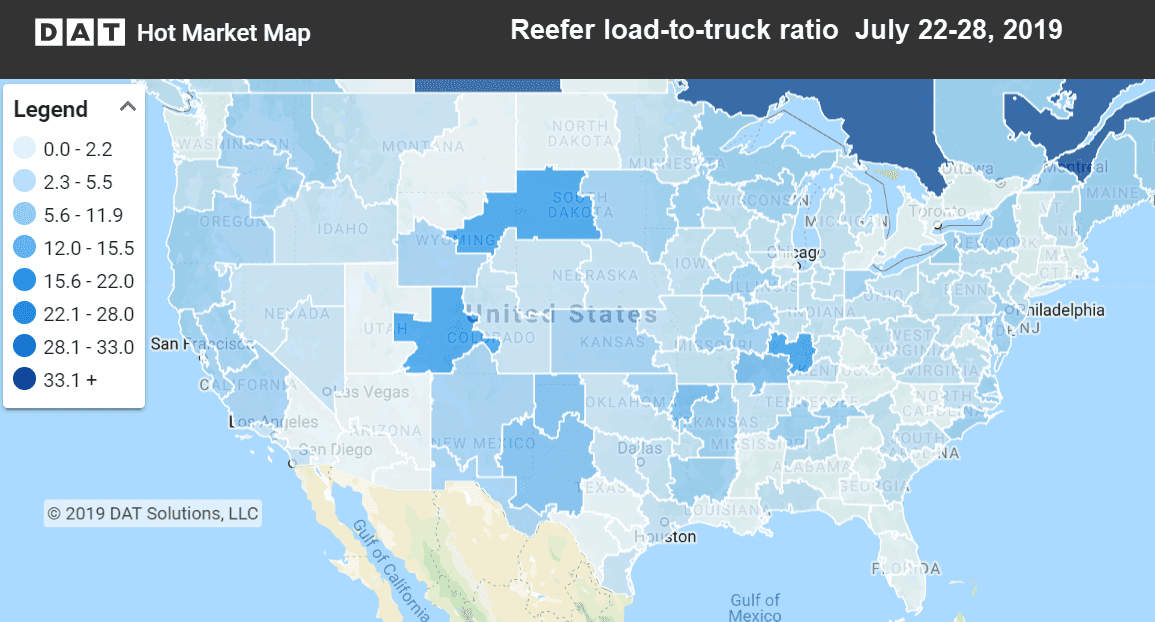 Hot Market Maps in DAT Power and DAT RateView show where trucks are hardest to find. The darker the color, the less competition there is for truckload freight.
Rising lanes
Dallas, Sacramento and Fresno saw big increases in loads moved. Grand Rapids, Denver and Sacramento saw sharply higher rates. 
Sacramento to Denver went up 26¢ to $2.78/mi

Grand Rapids to Philadelphia rose 23¢ to $2.97/mi

Denver to Houston jumped 23¢ to $1.65/mi

Green Bay to Joliet increased 24¢ to $3.51/mi
Falling lanes
Loads dropped sharply at the border, with Nogales, AZ, plunging in both rates and volume. McAllen, TX, lost volume as well but rates held. Watch trends in Northern California, as long haul produce has potential to reverse market trends. 
Atlanta to Philadelphia decreased 36¢ to $2.34/mi

Nogales, AZ to Los Angeles went down 22¢ to $1.95/mi

Lakeland, FL, to Chicago dipped 23¢ to $1.24/mi

Green Bay to Des Moines plunged 74¢ to $2.11/mi
Find loads, trucks and lane-by-lane rate information in DAT load boards, including rates from DAT RateView.