The Senate's recent passing of the $1 trillion infrastructure package should lead to historic investment in roads and bridges. All of the tons of concrete, gravel and steel will need truckload carriers to haul. But like most industries, the concrete industry doesn't have enough workers, ingredients, or capacity to deal with the demand right now, according to Anirban Basu, Chief Economist at Associated Builders and Contractors.
The ongoing labor shortage will be a factor in the trucking industry's ability to meet demand given how hard it is to find truck drivers to move product around locally.
"We rely upon trucks to deliver the cement from the plant, and 97% of all our product flows by trucks," says Ed Sullivan, Chief Economist at the Portland Cement Association.
The U.S. built 1.7 million more new single-family homes in the first seven months of 2021 compared to the same time frame last year. This was a major reason why the long-haul flatbed sectors saw record-high rates and driver shortages. We still have much more freight than there are drivers and trucks to move it.
With demand predicted to increase even higher now that the infrastructure bill is passed, competition for local drivers to haul sand, gravel and concrete will be even higher. The red-hot housing market has already created instances in which supply is unable to keep up with the demand for concrete. There are bidding wars as people compete for concrete slabs to lay foundations, patios, and driveways.
Find loads and trucks on the largest load board network in North America.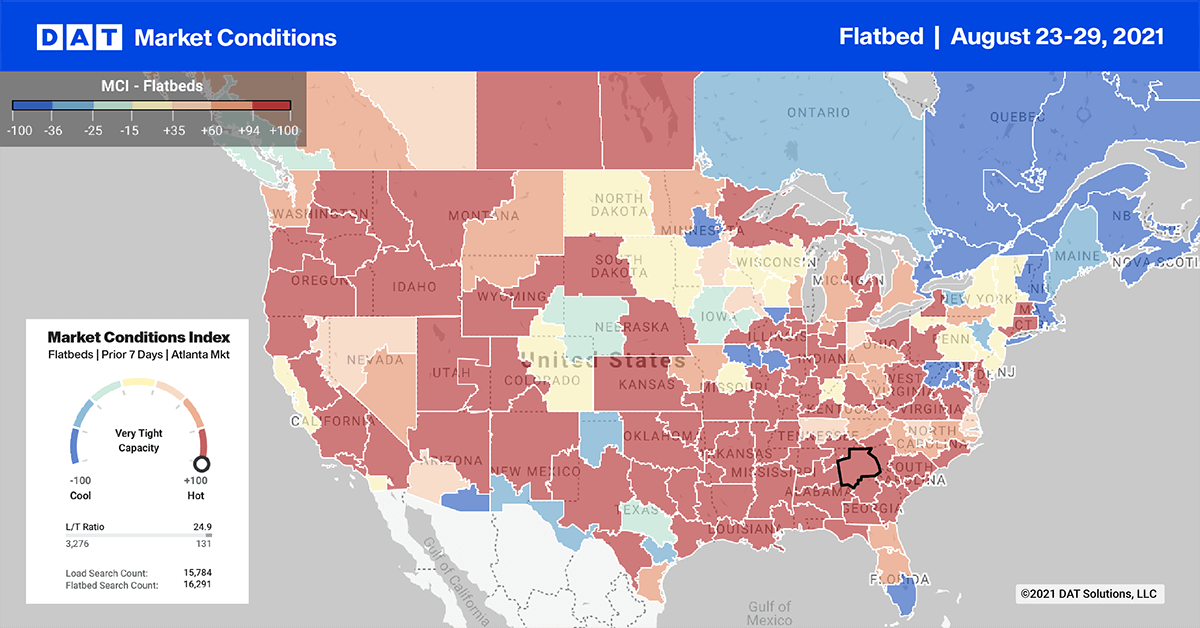 Note: All rates exclude fuel unless otherwise noted.
Hurricane Ida sparks flatbed market movement
New Orleans is not a large flatbed market — it ranks 53 out of 135 freight markets. But during hurricane season, there is typically a surge in inbound loads of building materials, machinery and lumber in anticipation of higher demand during the rebuilding phase. Hurricane season usually peaks in September, which means shippers begin to position freight well ahead of time.
Inbound flatbed volumes jumped by 47% two weeks ago before dropping back to more normal levels last week. As a result, inbound flatbed capacity was tight last week with rates up $0.56/mile to an average of $2.22/mile for loads from Lakeland to New Orleans. Loads from Reno, NV were up $0.17/mile to $1.97/mile. And after increasing $0.28/mile the week prior, loads from Bangor, ME decreased by $0.07/mile last week to an average of $2.08/mile.
Spot rates
After decreasing for the prior seven weeks, flatbed spot rates increased by just over $0.01/mile to a national average of $2.63/mile. Flatbed spot rates remain $0.41/mile higher than the same week last year and $0.17/mile higher than the same time in 2018.
How to interpret the rate forecast:
Ratecast: DAT's core forecasting model
Short Term Scenario: Formerly the pessimistic model that focuses on a more near-term historical dataset
Blended Scenario: More heavily weighted towards the longer-term models
Blended Scenario v2: More heavily weighted towards the shorter-term models