The latest release of the Retail Truck Tonnage Index from Michigan State University indicated July tonnage remained strong.
"We are starting to see a different mix of freight at this time last year, with more clothing and home furnishings replacing building materials," says Professor Jason Miller.
Overall tonnage dropped 0.15% in July from June, but was up 2.5% from July 2020. Looking at the two-year numbers, tonnage was up 14.5% compared to July 2019. The report noted that the Building Materials sector is now showing poor performance relative to 2020 where June and July sales levels were down from 2020 levels.
Get the clearest, most accurate view of the truckload marketplace with data from DAT iQ.
Tune into DAT iQ Live, live on YouTube or LinkedIn, 10am ET every Tuesday.
It also appears that the e-commerce party is starting to wind down following a dramatic drop in sales in July from June. This is most likely because of Prime Day and rivals' actions in June, according to Professor Miller. E-commerce is now just 2.7% above July 2020 levels.
Strong sales in Furniture & Home Furnishings, Clothing & Clothing Accessory Stores, and Other General Merchandise Retailers (e.g., Walmart, Target, Costco) suggest a consumer channel and a spending shift is underway.
What does this mean for dry van carriers?
"Prepare for freight to shift a bit away from retail and back towards manufacturers as consumer spending begins the shift away from retail and back to services," says Prof. Miller.
Find loads and trucks on the largest load board network in North America.
Note: All rates exclude fuel unless otherwise noted.
Severe weather in the Midwest and Northeast Regions impacted freight markets last week tragically resulting in multiple fatalities, power outages and major interstates closures. Record rainfall in Tennessee resulted in the closure of I-40 west of Nashville. And in the Northeast, the remnants of Hurricane Fred and Henri caused major flooding within the space of a few days in Pennsylvania, New York, Connecticut, Rhode Island and Massachusetts.
Interstate 95 was closed Sunday in Connecticut due to high wind as Hurricane Henri made landfall east of Long Island, NY, but not before more higher freight volumes had been moved out of the most impacted areas.
In the Brooklyn and Hartford freight markets, outbound volumes jumped 44% last week after declining for the three weeks prior. In the Springfield freight market where FEMA was staging emergency relief freight ahead of Hurricane Henri, inbound volumes surged 16% last week after four weeks of successive volume declines. Capacity also tightened in Springfield last week on lower outbound volumes where spot rates jumped $0.12/mile to an average of $2.62/mile.
Spot rates
Dry van spot rates stayed flat at $2.43/mile for the third consecutive week. They remain $0.42/mile higher than this time last year and $0.62/mile higher than the same period in 2018. On our Top 100 lanes for loads moved, spot rates were neutral on 41 (vs. 33 the week prior) lanes, up on 33 (29 last week), and down on 26 (37 last week).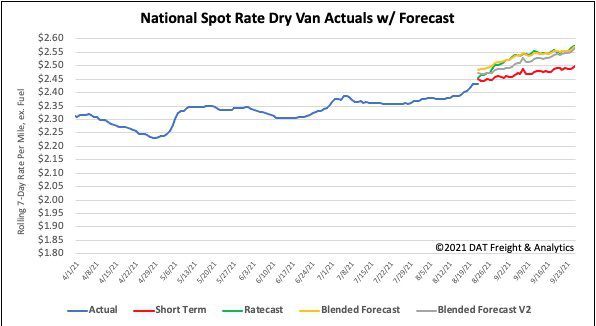 How to interpret the rate forecast:
Ratecast: DAT's core forecasting model
Short Term Scenario: Formerly the pessimistic model that focuses on a more near-term historical dataset
Blended Scenario: More heavily weighted towards the longer-term models
Blended Scenario v2: More heavily weighted towards the shorter-term models