The American Trucking Associations' (ATA) advanced seasonally adjusted (SA) For-Hire Truck Tonnage Index fell 1.1% in July after rising 0.5% in June. Compared with July 2021, the SA index increased 5.1%, which was the eleventh straight year-over-year gain. In 2022, year-to-date, and compared with the same period in 2021, tonnage was up 3.4%. 
"Tonnage declined sequentially in July for only the second time during the last twelve months. Despite the dip from June, tonnage remained at elevated levels and increased significantly from a year earlier," said ATA Chief Economist Bob Costello. "While tonnage is much stronger than a year ago, the monthly gains have moderated as the year has gone on. The combination of softer consumption of goods, home construction falling, and slower manufacturing activity are the main reasons."
The latest spot market update from Canadian freight matching company, Loadlink Technologies, highlights that the Canadian spot market softened in July, with load volume down 26% from June and 11% y/y.  
Key highlights of the report include: 
July's truck-to-load ratio was 3.51, just over 14 percent higher than the ratio of 3.08 in July 2021.

Capacity has grown for a fourth straight month in July, continually recovering from the dramatic capacity strains brought about during the pandemic.
While national averages trend downward, Loadlink's Posting Index reveals that there are lanes still experiencing growth – 

Toronto, ON -> Calgary, AB | Reefer | +14% M-o-M | -9% Y-o-Y

Montreal, QC -> Winnipeg, MB | Van | +16% M-o-M | -25% Y-o-Y

Houston, TX -> Edmonton, AB | Flatbed | +246% M-o-M | +95% Y-o-Y
All rates cited below exclude fuel surcharges unless otherwise noted.
Dry van capacity tightened in the Columbia River Basin and Yakima Valley in Washington State following a 13% w/w increase in load posts. Regional outbound dry van linehaul rates increased by $0.10/mile to $1.25/mile. On the East Coast in Syracuse, NY, load posts increased by 5% last week after being flat for the prior month. Outbound spot rates jumped by $0.19/mile to an average of $2.28/mile, while on the regional lane south to Harrisburg, at $3.29/mile, spot rates have been increasing steadily in June but are still just over $1.00/mile lower than the previous year. In the country's number four port, Savannah, outbound spot rates increased by $0.03/mile to an average of $1.93/mile last week, reversing a three-week slide. On the high-volume lane to Atlanta, load rates continue to drop at $629/load is almost $300/mile lower compared to the previous year. 
Loads from Savannah to Dallas at $1.53/mile were flat this week but still around $0.40/mile lower than the previous year, while on the 336-mile haul to Lakeland, spot rates are almost $1.00/mile lower y/y at $3.17/mile. Further north in the Brooklyn, NY, market, dry van capacity tightened following a $0.19/mile w/w increase in spot rates to an outbound average of $2.36/mile last week. Long-haul loads 1,500 miles west to Dallas averaged $1.63/mile in August after increasing by $0.35/mile since June and are now just $0.19/mile lower than the previous year.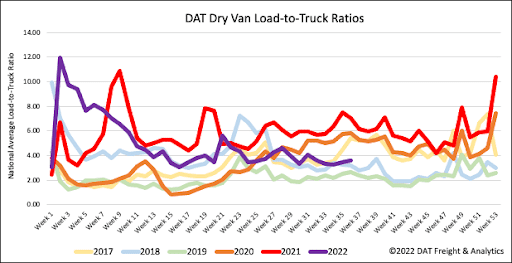 The last week of the freight month typically sees a flurry of shipping activity, but with August ending midweek, the volume gains were modest the previous week with little change from the week prior. In the last 18 months, carriers seem to be taking more time off around significant holiday breaks this year following last week's 3% decrease in equipment posts. As a result, the dry van load-to-truck (LTR) increased slightly from 3.45 to 3.57.  
Dry van linehaul rates decreased by just over $0.01/mile last week as the market was oversupplied with equipment. The national average dry van linehaul rate ended last week at $1.91/mile, which is $0.58/mile lower y/y and just $0.05/mile higher than in 2018. Dry van linehaul rates are still $0.25/mile higher than the average of pre-pandemic years.