Economic activity in the manufacturing sector grew in December, with the overall economy notching an eighth consecutive month of growth, says the nation's supply executives in the latest Manufacturing ISM Report.
"The manufacturing economy continued its recovery in December," noted Timothy R. Fiore, Chair of the Institute for Supply Management Manufacturing Business Survey Committee. "Survey Committee members reported that their companies and suppliers continue to operate in reconfigured factories, but absenteeism, short-term shutdowns to sanitize facilities and difficulties in returning and hiring workers are causing strains that are limiting manufacturing growth potential."
The December Manufacturing PMI registered 60.7 percent, up 3.2 percentage points from the November reading of 57.5 percent, which indicates expansion in the overall economy for the eighth month in a row after contracting in March, April, and May 2020.
Find dry van loads and trucks on the largest on-demand freight marketplace in North America.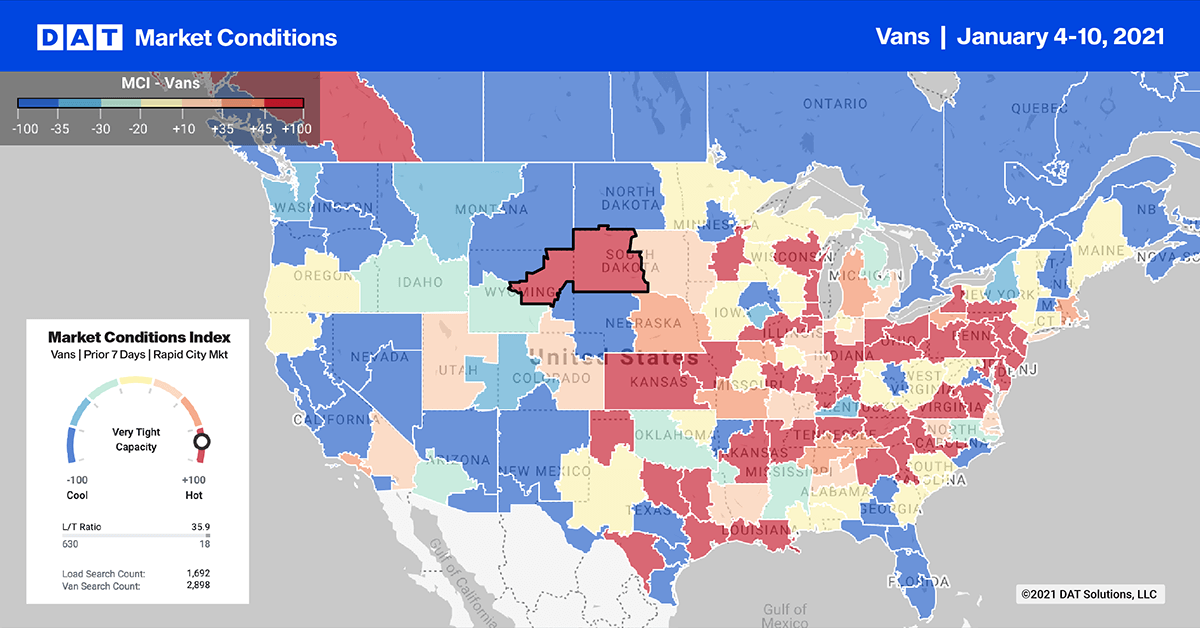 Outbound load post volumes increased the majority of markets last week, as carriers got back to work and shippers cleared backlogs. The most notable market movement this week is the dramatic fall of both Los Angeles (No. 23) and Ontario (No. 27), which were the number one and two markets just a few weeks ago, following the surge in U.S. imports as shippers restocked inventories.
Due to port congestion on the West Coast, shippers have been diverting containerized volume to Gulf and East coast ports, which is a major reason for the 31% w/w spike in volumes in Houston this week on top of the 104% y/y increase in load post volumes. Capacity was loose with spot rates dropping $0.13/mile to $2.10/mile. Atlanta was the number one destination with 4% of loads, but the influx of freight added capacity to the Atlanta market, where volumes were only up 6% w/w. As a result, rates dropped $0.16/mile to $2.19/mile.
Spot van rates
Spot rates started their typical decline, as the freight year swung into gear. Unlike in other years, 2021 is starting from a much higher level.
As they were for the second half of 2020, spot rates are currently at record levels for this time of year at $2.27/mile excl. FSC. Rates remain up 29% y/y and $0.65/mile higher than the same week in 2020 and $0.36/mile higher than 2018.
How to interpret the rate forecast
Ratecast Prediction:  DAT's core forecasting model
Short Term Scenario: Formerly the pessimistic model that focuses on a more near-term historical dataset.
Blended Scenario: More heavily weighted towards the longer-term models.
Blended Scenario v2:  More heavily weighted towards the shorter-term models.