Flatbed capacity was tight in the state of Florida last week as spot rates jumped $0.74/mile to an average of $2.94/mile. In the top steel producing market in Gary, IN, spot rates held steady at $3.33/mile where they've been for the last two weeks. However, spot rates on the Gary to Atlanta lane were averaging $2.70/mile last week — up $0.50/mile compared to this time last year. 
Find loads and trucks on the largest load board network in North America.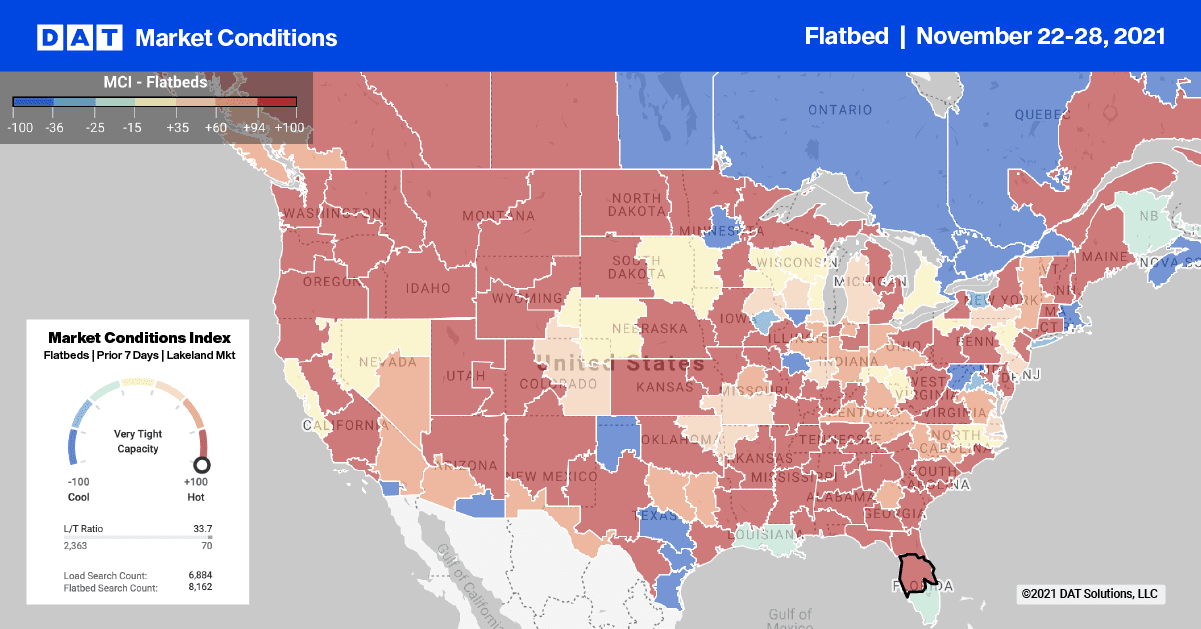 Note: All rates exclude fuel unless otherwise noted.
In Houston capacity was tight, pushing up spot rates by $0.15/mile to an average of $2.87/mile. In fact, the state of Texas found flatbed carriers in short supply over the break, pushing up outbound spot rates by $0.28/mile to a state average of $2.91/mile . 
Spot rates
After declining steadily for the last eight weeks, flatbed spot rates increased $0.04/mile to a national average of $2.57/mile because of the short work week and more carriers taking time off this year. Compared to the same week last year, flatbed spot rates are still 13% or $0.33/mile higher and $0.35/mile higher than 2018.
How to interpret the rate forecast:
Ratecast: DAT's core forecasting model

Short Term Scenario: Formerly the pessimistic model that focuses on a more near-term historical dataset

Blended Scenario: More heavily weighted towards the longer-term models

Blended Scenario v2: More heavily weighted towards the shorter-term models