The Port of Baltimore's six public marine terminals handles autos, roll-on/roll-off (RoRo), containers, forest products, and project cargo. The port also handles more RoRo farm and construction machinery than any other U.S. port. Baltimore's proximity to the Midwest's major farm and construction equipment manufacturers has helped it become the leading U.S. port for combines, tractors, hay balers, and importing excavators and backhoes. 
According to PIERS import data, Baltimore is ranked first for RoRo tonnage and is up 28% YTD y/y.  Tonnage is down 22% m/m for the month of February but is up 28% y/y. Automobiles accounted for 59% of the RoRo volume, but Construction Equipment, Cables, and Tractors accounted for 34% of the total RoRo tonnage.  These three commodities are up 29% YTD, but volumes are down 40% m/m and down 2% y/y for the month of February.  The primary driver of the decline in February is Cable. 
The latest data from PIERS will be helpful for flatbed carriers and brokers looking to take advantage of the annual peak in machinery imports, which typically occurs in March/April. 
Market Watch
All rates cited below exclude fuel surcharges unless otherwise noted.
At $2.55/mile, outbound flatbed loads in Maryland are identical to 2018 and the third highest in seven years. In Baltimore's sizeable flatbed machinery market, volumes decreased by 10% last week, with spot rates decreasing by $0.13/mile to $2.63/mile. In Chicago, spot rates dropped by $0.05/mile to $2.68/mile on a 3% higher volume last week.
Flatbeds were in demand in most Californian markets last week. Spot rates were up slightly to $2.07/mile at the state level while at $2.24/mile; Stockton outbound spot rates were up by $0.09/mile last week to $2.24/mile. Loads from Stockton to Phoenix at $1.97/mile were the highest since the start of the year. In neighboring San Franciso, spot rates increased last week by $0.25/mile to $2.39/mile, while in Ontario, rates were up by $0.06/mile to $1.85.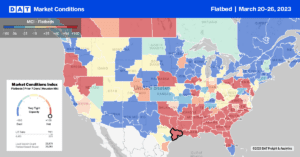 Load-to-Truck Ratio (LTR)
After flattening out in the prior week, flatbed volumes decreased by 11% last week. Volumes are around a quarter of what they were last year at the lowest level in seven years. Carrier equipment posts are still at their highest level in seven years following last week's 1% increase. As a result, last week's flatbed load-to-truck (LTR) ratio decreased from 16.34 to 14.32, also the lowest in seven years.
Spot Rates
After increasing for the prior eight weeks, flatbed spot rates have plateaued around $2.19/mile over the past two weeks. Flatbed rates are still $0.50/mile lower than the previous year and within $0.07/mile of 2018.