Freight became headline news in 2021. Shortages, backlogs and cascading disruptions were felt on a global scale, stretching supply chains to their breaking points. But as conversations about transportation grew louder, analysts had to contend with the noise caused by these disruptions when looking for the path forward. 
That's the challenge that transportation and logistics professionals now face when planning ahead for 2022. How much of this noise will carry into the new year, and how can we separate the signal from that noise?
Get your copy of 2022 Freight Focus: The Transportation Logistics Outlook to get the full report on how to navigate these volatile times.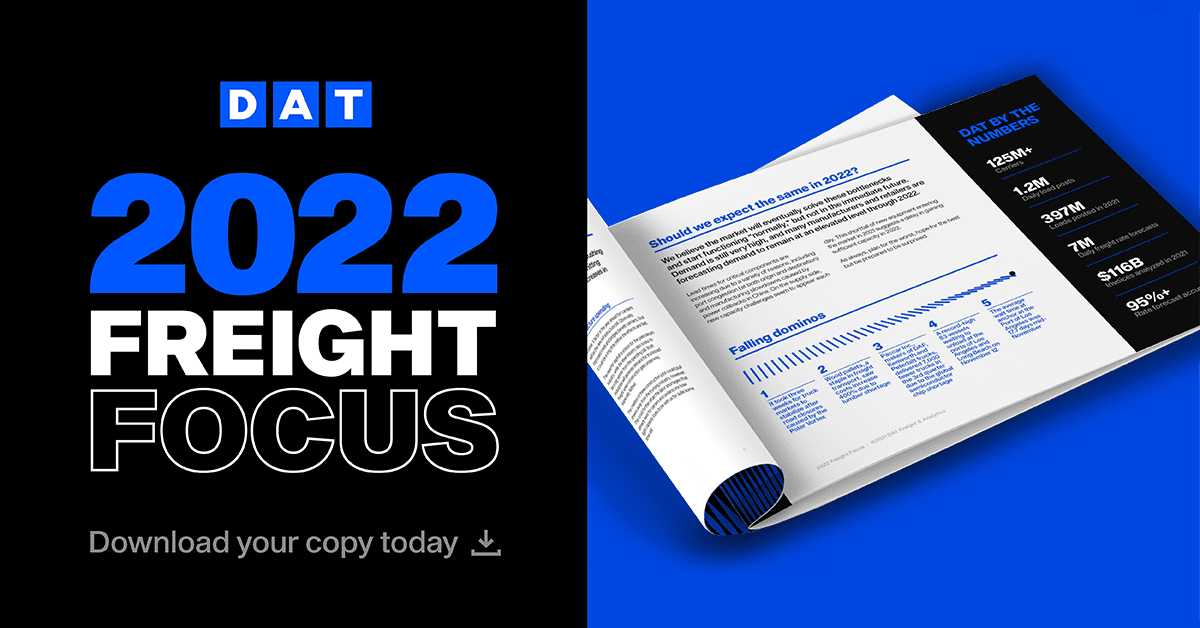 Normal won't come for everyone at once
The U.S. freight economy shows no signs of slowing down, which is likely to continue into early 2022. We expect record-high spot rates and volumes to continue well into the new year because of the combined effect of:
Fewer trucks being built

Lower inventory of available trucks

Drivers in short supply

Unprecedented supply chain disruptions

Increased demand for services
When will we return to normal operations? We'll see a normal freight market when consumer spending habits return to normal. And even then, normal won't come for everyone at once. Just as the pandemic had winners and losers in the freight economy, the recovery won't be even. For example, the food services sector was hit particularly hard by the pandemic and has been slower to recover.
Transportation challenges in 2022 also aren't the same for everyone in freight:
Carriers need to consider

new factors when managing costs

Logistic managers have to expand

the routing guide to find more flexible loads

Brokers will continue to deal

with the expected ongoing capacity crunch
Data to the rescue
When the market correction finally does come, it'll likely be a return to more typical rates of inflation from a transportation pricing standpoint rather than a steep pullback. And Q2 of 2022 is likely the earliest that could happen, given the present backlogs and imbalances. 
Get our recent 2022 Freight Focus report to learn how to find the clear signals in this freight economy by using timely data and accurate analytics to parse the most relevant insights to inform your decisions.