Following a surge to end the month and the third quarter, the first week of October saw fewer loads and a dip in the load-to-truck ratio. Last week on the top 100 van lanes, rates increased in only 37 lanes, while 50 saw lower rates and 13 stayed the same. Most declines in lane rates were slight, however, dipping less than 10¢ per mile.
The national average van rate for October so far is $1.86, which is 2¢ higher than the September average and 5¢ higher than August.  
Looking for van loads? DAT load boards are the largest and most trusted digital marketplace for truckload freight.

Last week markets along the Rocky Mountains had the highest load-to-truck ratios. Hot Market Maps show the number of available trucks vs. available loads and are available in the DAT Power load board and DAT RateView.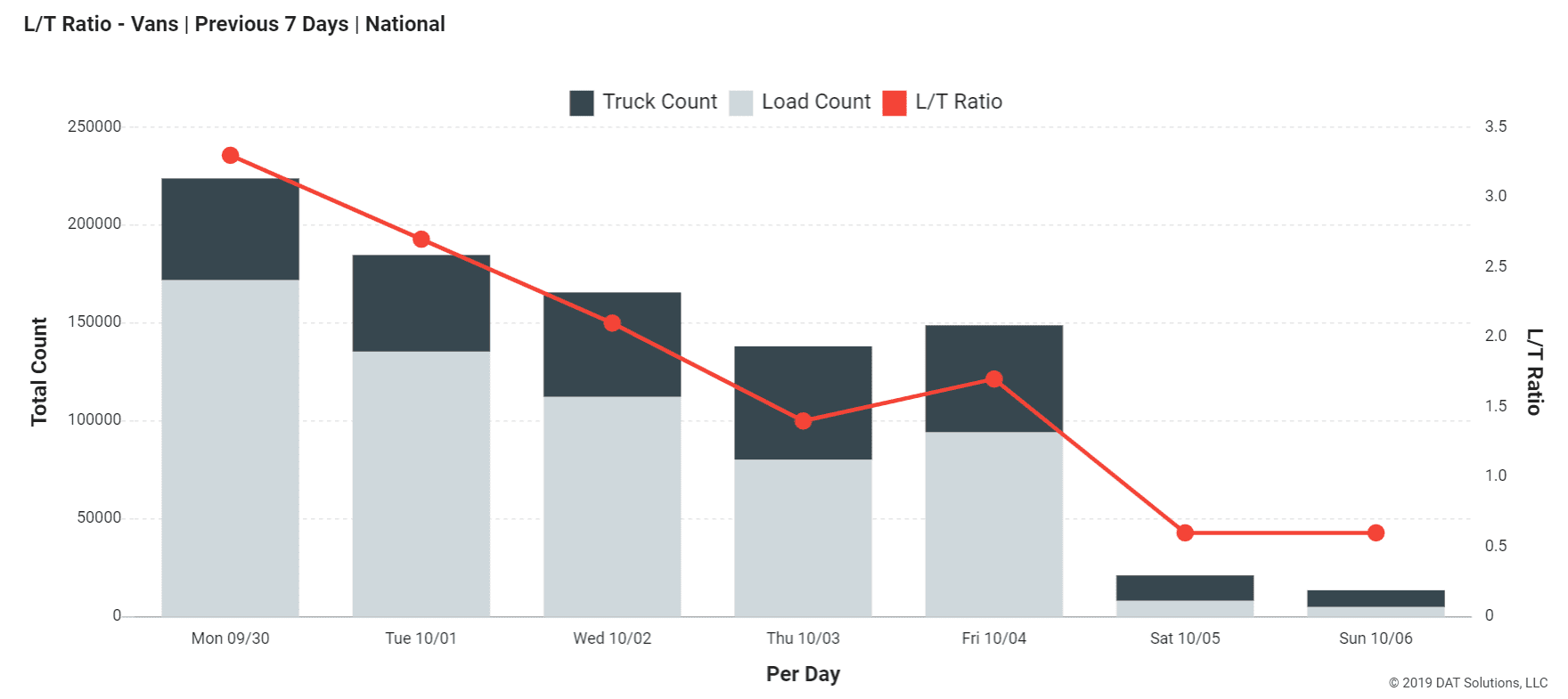 Van load counts ended September strong, but load posts and load-to-truck ratios moved lower as the week wore on, as seen in this graph from DAT RateView. 
Rising markets and lanes
Rates moved slightly higher in the Southeast region, but faded nearly everywhere else. The third quarter ended strong, so this could be a part of the normal cycle at the beginning of a new quarter.
Columbus to Buffalo increased 15¢ to $2.94/mi
Memphis to Charlotte gained 8¢ to $2.07
Atlanta to Columbus added 7¢ to $1.53   
Falling markets and lanes
The Allentown, PA market had more than a 10% drop in freight volume, causing rates to move lower too. There was also less freight coming out of Dallas.  
Chicago to Buffalo dropped 10¢ to $2.51/mi.  
Denver to Oklahoma City also fell 10¢, to $1.21/mi.
Los Angeles to Denver dipped 9¢ to $2.54/mi.
RELATED: Reefer markets transition to autumn