Expectations of a post-Easter rebound failed to materialize in reefer produce freight last week. Truckload demand in Florida continued to build, especially late in the week, but rates were mixed. Lakeland, FL had about 20% more loads, but Miami saw loads fall about 8%.
On the top reefer lanes last week, rates increased in 27 lanes, decreased in 41, and 4 lanes remained neutral. The national average reefer rate so far for April is $2.15/mi., 2¢ lower than the March average.
DAT load boards provide the largest and most trusted digital freight marketplace in the trucking industry, with more than 256 million loads and trucks posted annually, plus insights into current spot market and contract rates based on $60 billion in real transactions.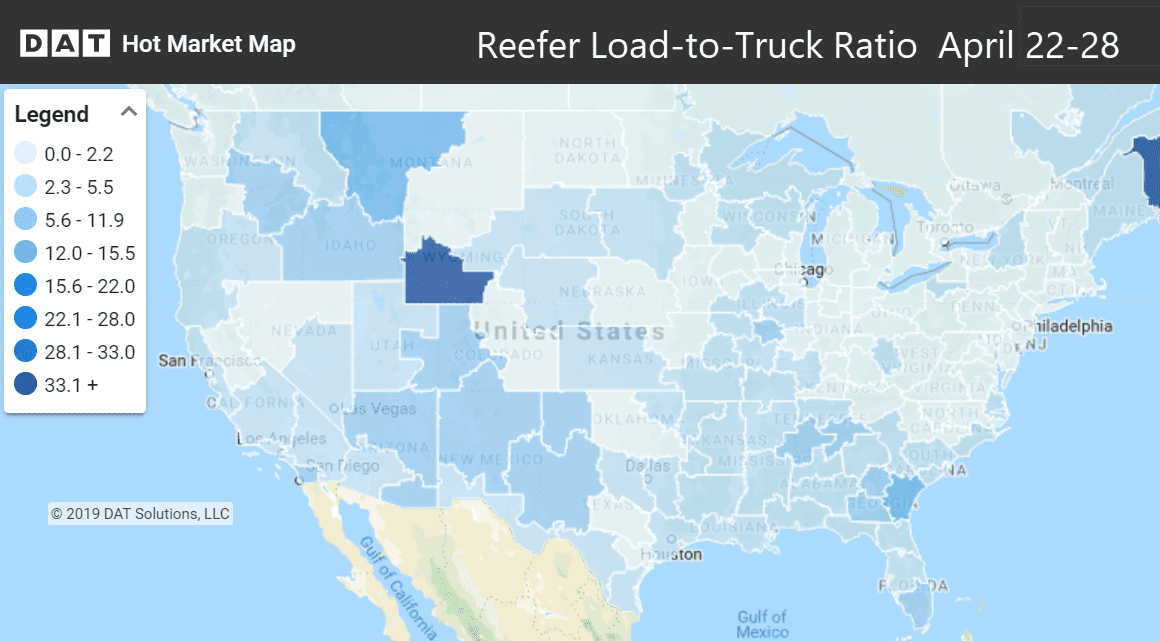 The national average load-to-truck ratio for reefers declined to 2.5 last week. The Hot Market Map is one of the many useful tools in the DAT Power load board and DAT RateView.
REEFER TRENDS
Reefer freight volumes were up double-digit percentage points coming out of Sacramento, Chicago, Elizabeth, NJ, and Lakeland, FL. But those gains were offset by double digit declines from Green Bay, WI, and Twin Falls, ID.
California freight volumes were down a bit last week, cherry harvests are expected to start this week and run through mid-June. At the U.S.-Mexican border, Nogales, AZ volumes were up, but McAllen, TX volumes were down. Grapes imports are running strong from the Mexican Pacific Coast.
Rising rates
Lakeland, FL to Charlotte increased 19¢ to $2.04/mi.
Miami to Boston also rose 19¢ to $2.19/mi.
Falling rates
Reefer volumes have been disappointing this year coming out of the Imperial Valley, which is in the Ontario, CA market.
Imperial Valley, CA to Chicago fell 21¢ to $1.68/mi.
Philadelphia to Miami dropped 23¢ to $1.43/mi.
Find loads, trucks and lane-by-lane rate information in DAT load boards, including rates from DAT RateView.