The Little Rock freight market might not be the largest in the South, but it is one of the few true intermodal markets for truckload carriers. What makes Little Rock different than most intermodal hubs is the Arkansas River, the fourth longest in the nation and a significant artery for barge traffic.
Combine road, rail, air, and water transport, and you have an excellent market for major multimodal logistics. That makes the recent announcement of a new industrial park by the Port of Little Rock interesting for truckload carriers looking for more outbound freight from what is traditionally a backhaul freight market. In the dry van sector, approximately 28% more loads come into Little Rock compared to outbound loads, whereas in the reefer sector, it's almost the opposite, with 38% more loads out than in. In flatbed, it's a much more balanced market with just 3% more inbound loads than outbound. 
Get the clearest, most accurate view of the truckload marketplace with data from DAT iQ.
Tune into DAT iQ Live, live on YouTube or LinkedIn, 10am ET every Tuesday.
How will this new development benefit truckload carriers specifically?
According to The Port of Little Rock, the South Port Commerce Center will be a one-million-square-foot industrial development located in the port, adding intermodal opportunities with barge-to-rail and barge-to-truck capabilities. Completion of Phase 1 is scheduled for the second quarter of 2023 and will be set on 64 acres featuring two buildings and a 537,845 square-foot cross-dock facility. Benefiting truckload carriers specifically will be the cross-dock facility's 68 dock doors, 52 future doors, four drive-in doors, 160 trailer parking spaces, and 449 regular parking spaces. Phase 2 will feature a 428,000-square-foot building cross-dock facility.
According to Little Rock Mayor Frank Scott, Jr., "Centrally located with access to road, river, runway and rail, the Port of Little Rock has become the South's premier location for investment," adding much needed industrial storage and distribution capacity in the port.  
What makes Little Rock so pivotal as a freight distribution center?
The Port of Little Rock Terminal is located just south of the I-440 Bridge, with excellent access to interstate highways, including I-30, I-430, I-40, I-440, and I-630. Approximately 90 million people live within a day's drive of Little Rock, encompassing major population centers, including Dallas, Houston, Memphis, Nashville, Chicago, Kansas City, New Orleans, St. Louis, and Atlanta. Interstate 40 is also one of the busiest in the country, especially between Memphis and Little Rock, where according to the Federal Highway Administration (FHWA), approximately 25,000 trucks per day make their journey. 
Major Class 1 railroads, including Burlington Northern Santa Fe (BNSF) and Union Pacific (UP), have intermodal hubs in Little Rock, which provide daily services between Mexico, Dallas, Houston, Memphis, and Chicago points further east. Little Rock is also just 140 miles west of Memphis, the Logistics Hub of America, and only one of three U.S. cities served by five Class I railroads.
What can truckload carriers expect at the Port of Little Rock?
In addition to a growing truckload freight volume, the Port of Little Rock offers 50 tons of cargo lift capacity, 200 tons/hour bulk handling capacity, truck and rail scales, and chemical and grain packaging from rail, truck, and barge. According to CBRE, e-commerce penetration is expected to grow to 26% of all retail sales by 2025, requiring an additional 330 million square feet of distribution space to handle the increase in online ordering in that time frame. A million square feet in Little Rock is just the start.
Top 25 destinations from Little Rock by spot volume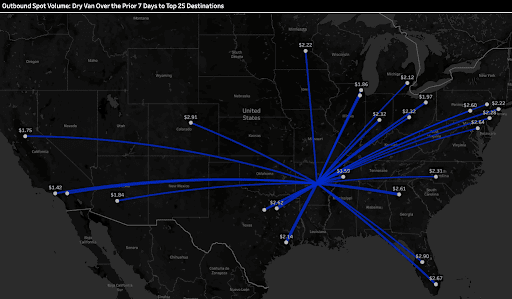 Weekly reports